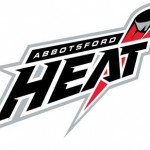 If you're going to lose you may as well lose big.  That seems to be the motto of the Rochester Americans this season.  They lose by the final score of 6-2 on Saturday night on the road against the Abbotsford Heat.
Shawn Matthias scored first for the Amerks on a great breakaway and was able to sneak a shot through the pads of Matt Keatley.  The only other Amerks goal was scored by Keaton Ellerby with less than seven minutes left.
That ends the highlights for Rochester.
Chris Beckford-Tseu stopped 33 of 39 shots.  A few of the early goals were because he was not able to sit on the puck hard enough.  It either passed through his pads or the Heat continued jamming at it and got it through.  Hopefully it was his last game ever in an Amerks uniform.
They were outplayed in every way.  The Heat outshot the Amerks 39-24.  They scored three goals on five power play opportunities.  They skated faster.  The controlled the puck more.  They played a tighter defense.  The list could go on.  The Amerks just could not get any real offensive attack going.
As bad as the game was they are still 18-5-1 this season, not too bad heading into December.  This is now the longest losing streak of the season at two games.  It did not help that the Amerks played with a depleted lineup tonight.
Watching the Amerks tonight was like watching the team that played at the start of last season.  They were not able to get any kind of attack going.  The lineup was clearly the deciding factor of this game and the Heat took full advantage.
No one was able to step up and the game was not nearly as physical as expected.
The Heat lead the league at almost 800 penalty minutes.  There were no fights with Jimmy Bonneau or Steve MacIntyre.  Newcomer Colt King did not do anything to make himself stick out.  Some teams when they're losing go out and start playing harder and getting into fights.  The Amerks seem to just put their heads down until the final buzzer sounds.
Chris Taylor was given a game misconduct for a boarding penalty at 11:25 of the first period.  That left the Amerks with only Shawn Matthias and Jamie Johnson at center.
Alexander Salak did not dress for the game.  Don Stevens said on the broadcast that the Panthers arrived in Florida around 3am Friday morning from the game in DC.  Salak had to be on a plane at 7am and did not arrive in Abbotsford until 11pm Friday night.  A good reason to give him the night off to rest.
David Brine and Mike York were listed as injuries.  No idea what's wrong with them.  Don Stevens only said they were injured.
The Florida Panthers still have Jeff Taffe, Mike Duco, Kenndal McArdle, and Victor Oreskovich called up.
Matt Duffy was a healthy scratch.  James DeLory is here working on his game, he's not expected to see playing time unless things get drastic.
Tyler Plante (knee) and Luke Beaverson (shoulder) are still injured and did not make the trip.
The same two teams on Sunday night at 9pm EST.
Stop by the game night chat room and say hi and talk some hockey!
————
Rochester Americans 2 At Abbotsford Heat 6 – Status: Final
Dec 5, 2009 – Abbotsford Entertainment & Sports Centre
Rochester 1 0 1 – 2
Abbotsford 1 3 2 – 6
1st Period-1, Rochester, Matthias 3 (Garrison, Taylor), 6:34 (sh). 2, Abbotsford, Cunning 3 (Sutter), 15:25 (pp). Penalties-Repik Rch (hooking), 5:06; Taylor Rch (major – boarding, game misconduct – boarding), 11:25.
2nd Period-3, Abbotsford, Murray 7 (Cunning, Meyers), 10:57. 4, Abbotsford, Stuart 8 (Lundmark, Jaffray), 14:33. 5, Abbotsford, Stuart 9 (Jaffray, Armstrong), 16:09. Penalties-Repik Rch (fighting), 20:00; Sutter Abb (elbowing, fighting), 20:00.
3rd Period-6, Rochester, Ellerby 4 (Garrison, Repik), 13:06 (pp). 7, Abbotsford, Lundmark 6 (Jaffray, Meyers), 15:02 (pp). 8, Abbotsford, Seabrook 6 (Backlund, Armstrong), 15:46 (pp). Penalties-Seabrook Abb (holding), 12:53; Sweetland Rch (hooking), 13:35; Garrison Rch (delay of game), 13:57; Bonneau Rch (roughing), 18:58; Armstrong Abb (roughing), 18:58.
Shots on Goal-Rochester 7-7-10-24. Abbotsford 9-18-12-39.
Power Play Opportunities-Rochester 1 of 2; Abbotsford 3 of 5.
Goalies-Rochester, Beckford-Tseu 0-1-0 (39 shots-33 saves). Abbotsford, Keetley 2-2-1 (24 shots-22 saves).
A-3,692
Referees-Jeff Smith (49).
Linesmen-Chris Carlson (52), Trent Knorr (91).