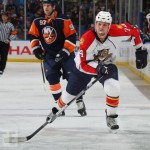 Steve Gorten of the Sun-Sentinal wrote today that it's possible Nick Tarnasky could be sent to Rochester on a conditioning stint.  Tarnasky has been out of action since September 15th when his orbital bone was broken.  At this point with the callups and injuries it could be helpful to have him around for a few games.
I'd be curious to know if David Booth could be sent here as well for conditioning once he returns.
Gorten also wrote that Kenndal McArdle could be sent back to Rochester to rehab his shoulder.  An injured player can't be "sent down" so McArdle would still get paid his NHL salary.  At least he'd be back "at home" and not living out of a suitcase in Florida.
Could be boring by yourself, but if I had the option I'd try and stay in Florida in December instead of Rochester.
Let's hope the injuries stop in Florida and the Amerks can get some sort of steady lineup back together.
Here's what Gorten had written:
http://blogs.sun-sentinel.com/sports_hockey_panthers/2009/12/florida-panthers-sunday-funday.html
Speaking of injuries, Nick Tarnasky, who is still recovering from a broken orbital bone suffered Sept. 15, did a lot of work on the ice today, shot the puck a lot. Pete said Tarnasky is getting closer to being ready to play and that the Panthers are considering whether to send Tarnasky to AHL Rochester for a conditioning stint, where he can play in some games, before throwing him into NHL action.

The team might be sending injured winger Kenndal McArdle (shoulder) to Rochester to continue his rehab. Just to clarify, the NHL doesn't allow players to be sent down while they're injured, meaning he would continue to receive NHL money and be a part of the big club, but would just be going there for treatment.
The Amerks wrap up their six game road trip tonight at Abbotsford at 9pm EST.