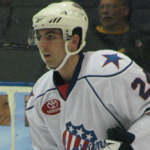 With the completion of the long road trip the Amerks announced some roster changes on Tuesday.
Goaltender Ryan Mior was released from his PTO and he'll return to the Dayton Gems of the IHL.  Mior played well in his two games with the Amerks and I expect he'll be kept on speed dial if he's needed.  Mior played in two games for the Amerks.  He made 30 saves in the teams 2-1 win on Sunday night in Abbotsford.  He also played last Wednesday in the teams 2-1 loss in Manitoba where he made 22 saves.
Colt King was on loan and returned to Rapid City.  In the two games he played for the Amerks in Abbotsford he did not really make any kind of impression.  He deserves a break though considering the distance traveled and not getting a chance to really practice with the team.  He was signed to a two way deal so we can expect to see him back at some point this season.  He was not the power forward providing toughness that was expected, but then again the games he played in were not very physical.
Matt Duffy was reassigned to the Florida Everblades completing the list of transactions.  Duffy only played in one game out of the six on the road trip, that game was at the start of the trip in Binghamton.  Duffy has been "ok" on the blue line but has not produced the offense seen out of him at the end of last season.  The more time he has with the Everblades in the ECHL will benefit him to improve.
With those moves comes some questions, mostly with the goalie situation.  Chris Beckford-Tseu will stick around as backup, now we just have to hope that nothing happens where he's forced to play.  The schedule is pretty even for the next month which should be easy enough to allow Alexander Salak to play every game.  The next three in three isn't until January 8-10th, hopefully Tyler Plante will be able to play again by then.