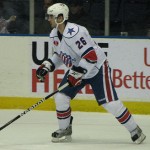 It wasn't pretty but the game was full of effort and the Amerks were able to end their six game road trip with a 2-1 win over the Abbotsford Heat.  They end the road trip with three wins and three losses, respectable based on the circumstances.
The game was scoreless until 7:27 of the third period when Brett Sutter put a wrist shot past Ryan Mior from the face off circle.  Sutter had the breakaway and was able to get the shot off before Keaton Ellerby was able to get in front of him.
Ville Koistinen answered back at 11:04 of the third working hard going to the net to get one past Leland Irving to tie the game 1-1.
Michal Repik scored the game winner at 14:48 thanks to a big mistake by John Negrin of the Heat in front of the net.  Shawn Matthias made the initial pass to Repik who put a shot on net.  The rebound stayed in front of the net and Negrin put the puck right on Repiks stick and he was able to put it in the net.
Ryan Mior made 30 saves and played an impressive game.  It'll be ludicrous if Chris Beckford-Tseu sticks around over this guy.
The game was much better than the effort we saw on Saturday night.  The team was able to get some action in the offensive zone, even if most of the shots were not quality scoring chances.  They appeared to put everything they had left into the game as it went on and they were rewarded with a win.
A couple of injury updates:
** David Brine is supposedly out with some aching ribs.  That's what Don Stevens said during the broadcast.  Hopefully some rest this week and he'll be back in action on Friday, he was certainly missed.
** Mike York did not play due to being sick as well as some knee problems.  I've noticed he has not seemed to be playing the same as he did at the start of the season and now we're learning his knee is acting up from surgery he had over the summer.
** Alexander Salak did not dress for the game due to illness.  Spending a full day traveling with little sleep after playing in a game is a recipe for getting sick.
** Jeff Taffe has been banged up in Florida.. no idea what's wrong at this point but hopefully it's not too bad.
The team will get a much needed couple of days off to rest and recover.  They're back in action Friday night at home against the Abbotsford Heat.