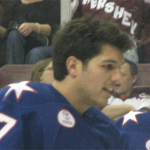 Jimmy Bonneau has been a consistent enforcer for the Amerks this season and with the team already trailing 4-0 he dropped the gloves to square off with Grant McNeil.  A decent fight even after the jersey went over his head he continued to connect with punches.  Bonneau has not only been a consistent enforcer but also a consistent player that Benoit Groulx can rely on for a regular shift without being a liability on the ice.
Unfortunately Steve MacIntyre appeared to back down from two different requests to fight during the game, at least that's how a couple of fans viewed things from the game.  I don't have any names of Bears players that challenged him, but I also have no reason to doubt those who told me this.  The only reason I mention that is because it's becoming a common occurrence for MacIntyre.  He has gone from an anticipated heavyweight bringing some action to a complete snooze.
http://www.youtube.com/watch?v=x60JtwtaCaU
The Amerks welcome the Syracuse Crunch back to Rochester on Tuesday night.  The Amerks are 6-0 against the Crunch this season and it's a losing streak I know the Crunch would like to end, especially in Rochester.  With the depleted roster and Graham Mink expected to sit the game out maybe we'll see some early fireworks.