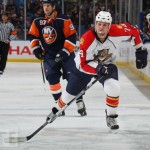 The Florida Panthers sent winger Nick Tarnasky to Rochester on Sunday afternoon on a conditioning stint.  Tarnasky has not played in a game since fracturing his orbital bone in a fight with Chris Neil during the Panthers first preseason game on September 15th.
Some additional help is coming at the right time, I'm not sure how much Tarnasky can provide but we'll take it.  We just have to hope that he can produce more than Ville Koistinen has.
Steve Gorten is reporting that Tarnasky will return to Florida before their Christmas break so I expect he'll be in Rochester through the end of next weekend.  An NHL player can be sent to the AHL for conditioning for two weeks without having to go through the waiver process.
The game on Tuesday against the Syracuse Crunch is likely to be a physical one as always, it'll be interesting to see if Tarnasky gets into the game that way or shys away to avoid any further injury.