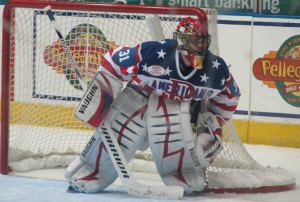 (Rochester, NY)… The Rochester Americans, in conjunction with Morgan Stanley, announced today that rookie goaltender Alexander Salak and forward Jamie Johnson have been named the Morgan Stanley Players of the Month for October and November, respectively.
Salak, 21, takes home the first award this season for the Amerks. The first-year netminder posted a flawless 6-0-0 record between the pipes for Rochester, allowing just 11 goals and turning away 198 saves in seven games in the month of October en route to being named the AHL's Rookie of the Month. The Strakonice, Czech Republic, native, recorded six wins, the most of any goaltender in the AHL, throughout month to help the Amerks clinch the top spot in the American Hockey League standings.
Currently, he boasts a league-best 16-3-0 record with 538 saves in just 20 games. His 2.26 goals-against average and .928 save percentage are currently eighth and sixth among league netminders, respectively, while his 16 wins are presently a league best. In 20 games, Salak has only allowed 42 goals.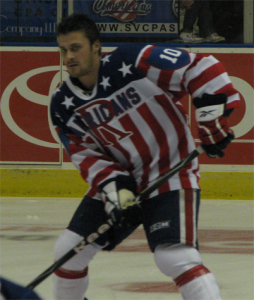 Johnson, in his seventh season of professional hockey, receives the November honors after registering 11 points (5+6) throughout the month, during which he posted back-to-back three-point games, picking up a goal and two assists on both November 12th and 14th.  Both performances gained him second-star honors. On November 29th, Johnson registered three more points, including two goals, in a 7-4 win over Syracuse. He also scored two game-winning goals within the same week, on November 10th and 14th, and picked up a game-winning assist on November 12th.
A native of Port Franks, Ontario, Johnson is currently leads the team with 25 points (10+15) and is tied for eighth in the league in overall scoring after recording 21 points (10+11) in his last 17 outings. His to 10 goals are also equal to that of Graham Mink for the team lead as well.
In its second season, the sixth-month long program awards players for their outstanding performances each month throughout the American Hockey League season. The team presents the winner with a plaque honoring their achievements as the recipient of the Morgan Stanley Player of the Month.