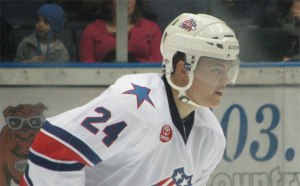 The news of the day out of downtown Rochester is that Ville Koistinen is likely done for the season with a knee injury, Jason Garrison is likely to be called up on Friday, and that A.J. Thelen has been brought in from the Florida Everblades for extra help on defense.
Koistinen probably hurt his knee during a shift on Tuesday night where he first kicked the puck like a soccer ball and then followed it up by trying to jump over and through a check along the back boards.  He almost made it but his legs were smashed against the boards and I don't think he played after that.  According to Kevin O. he tore his ACL.
Apparently Bryan Allen is questionable for the Panthers game on Friday which is why Garrison will likely be called up.
Thelen was a first round draft pick of the Minnesota Wild in 2004 but never made it very far in their system.  The Wild blog  "Hockey Wilderness" wrote that many consider Thelen to be one of the biggest draft busts in Wild history.  Based on his stats he seems to be more of an offensive defenseman.
Just have to hope the newcomer from the ECHL is able to play defensively against a fast skating Hershey Bears team.
Here's quotes from two different people that have seen him play recently…
Jack Birch, director of player personnel for the Panthers, said he has seen Thelen several times over the past couple weeks and likes what he sees.

"He can skate and he's got a terrific shot," Birch said. "He's not nasty but he does play the body. He has lots of NHL upside in terms of skills."
The writer of Swamp Hockey (Florida Everblades blog) said:
He's been more of an offensive defenseman this season than he was last season. There's a recent quote from him (I think from the Blades Blog) where he mentioned coach Cameron has given him more flexibility to be more offensive. I'm pretty sure if he's told to stay home he will, he's not the type to fight the system and this is a big chance for him
We'll see what happens.  Benoit Groulx talked after Tuesday nights game about the defense needing to be stronger in front of the net.  Anyone who has watched the team has shared the same thoughts.  It would've been nice to see someone brought in that could keep opposing players away from the front of the net to try and help out.
Amerks host the Bears Friday night at 7:05pm!