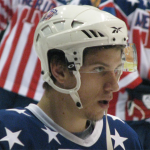 It shouldn't come as a surprise that the Florida Panthers played another game and another player was injured.  Not sure of the details but the Panthers Twitter feed said that Dmitry Kulikov left the game with a "lower body" injury.  So after the game Keaton Ellerby packed his bags and is getting called up.
Update: Adding this update an hour after the original post.. some Panther fans have stated that Jason Garrison played a rough game on Friday night.  The call up could be for Ellerby to replace Garrison.  Even if that is the case I'm not sure Garrison could rejoin the Amerks in Hershey with the huge storm hitting that area.  Garrison had originally been called up to give Bryan Allan a night off.
Steve MacIntyre left the game after his second period fight and did not return in the third period.  Benoit Groulx said after the game that MacIntyre was not feeling well and decided he wasn't feeling well enough to return.  Groulx said that he wasn't sure if Mac would make the trip on Saturday.
And for the last update, I'll talk about Mike York.  Groulx was asked after the game about Yorks status and Groulx said that York is at least a couple of weeks away from returning and that he needs to get back in shape.  He said that York needs to practice with the team but with the current schedule they have not been practicing.  What kind of "personal issue" makes you out of shape?  An injury.  That's the only thing I can think of.  We've been asked to respect his "personal issues" but when a coach makes comments like that the only thing we're left with is to speculate.  I'll go back to my original thoughts weeks ago that it's a knee problem.
Did the coach and Don Stevens tell the truth from the start but York or someone else didn't want it known?  Who knows.  Some will probably say to not talk about it and respect the "decisions made," but what kind of blogger/reporter with a media pass would I be if I didn't write about it?
In case you didn't hear the Amerks were outplayed by a dominant Hershey Bears team and lost on Friday night.