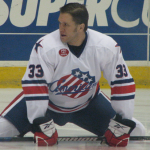 Steve MacIntyre dropped the gloves with Grant McNeill of the Hershey Bears on Friday night and the footage is below.  MacIntyre gets the obvious decision with a couple of good punches.  The winning fight for MacIntyre appeared to spark something in the team since they were able to score a goal a few minutes later.  It turned out to be the only goal of the game.
MacIntyre did not return after the fight because he was not feeling well.
http://www.youtube.com/watch?v=S16AhyBXET8
You can check out all of the videos I have uploaded at http://youtube.com/letsgoamerks.  If you've taken some video at a game please send me a link so I can share it!