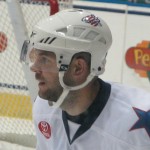 A quick update with some roster changes for tonights game vs the Hamilton Bulldogs.  The Panthers have sent Keaton Ellerby, Jeff Taffe and Michal Repik back to the Amerks.  They also called up Mike Duco and Steve MacIntyre.
Keaton Ellerby was called up on Friday night but he never let Rochester.  His flight was scheduled to leave Saturday morning but due to the storm on the coast he would not have made it to Carolina in time for the Panthers game on Saturday.
Jeff Taffe has been calledup to the Panthers since December 2nd and Repik had been called up December 12th.  They should be a big help on the offense with some speed up front.
The Florida Panthers are playing the Philadelphia Flyers on Monday night and have called up Mike Duco and Steve MacIntyre for the game for some extra grit.  It would've been nice if they could have given the Amerks a favor and at least let Duco play today.  I know all about not wanting to risk a player being injured, but it would've been a nice gesture.
The Amerks have also signed David Schulz from the Johnstown Chiefs to a PTO.  He's 6'4″ and 210lbs so hopefully he'll be a strong defenseman and not too worried about offense.  Here's a quote from the Chiefs web site:
"Dave is a familiar face that will be welcomed back in our locker room. He will add size and a steady, dependable presence to our blue line, as well as veteran leadership," said Chiefs vice president and general manager Bill Bredin.
Game time is at 5:05pm.  Get some shopping done and head down to the arena.