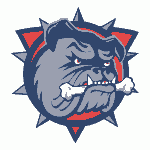 We've talked about a lot of games that were going to be a test for the fast skating Amerks earlier in the season but tonight is the first game that has some real meaning.  The Amerks and Hamilton Bulldogs are tied for first place in the North Division with each team at 41 points.  The Amerks are 4-6 in their last 10 games.  The Bulldogs are 7-2-1-0 in their last 10 games.  It's easy to see which team has been trending in the right direction and which one the wrong direction.
The two teams have played twice this season with the Amerks winning both games.
11/10/2009 – Amerks won 4-1 in Rochester
11/24/2009 – Amerks won 5-2 at Hamilton
Things are a little different this time around.  The Amerks are without four players who were big contributors in both of those games.  Those players being Graham Mink, Mike York, Jeff Taffe, and David Brine.  Unless a miracle happens none of those guys will be playing.  The Amerks will also be without Keaton Ellerby and Jason Garrison.  In there places are Nick Tarnasky, Ernie Hartlieb, A.J. Thelan, Daniel Steiner, and Daniel Tkaczuk.  Four of those five players with little AHL experience.
The Bulldogs have two of the top seven goalies in the AHL right now in Curtis Sanford and Cedrick Desjardins.
Alexander Salak should be getitng the start in net for the Amerks.  I say should because with the way things are going now anything can happen.
The Amerks are having to travel from Hershey and the Bulldogs from Hartford.  Both teams will likely be tired playing their third game in three nights so fatigue could be an excuse but both teams will be tired.
The offense proved on Saturday night that they can score goals, now it's up to the defense to help prevent them.  If the defense can stand their ground it's possible for the Amerks to stay in first place for the time being.
The 5:00 p.m. matinee will be the third of 10 between the North Division rivals and will be carried live on SportsRadio 1280 WHTK and FM 107.3, Rochester's Sports Talk. Rochester is 2-0-0-0 this season and 65-50-9 lifetime against Hamilton.
Fans can take advantage of the Zweigle's Family Four Pack. Fans can receive four tickets, four hot dogs and four sodas for just $44. After the game, fans can head down to The Distillery (1142 Mt. Hope Ave) to meet Tyler Plante, Evgeny Dadonov and more of your favorite Amerks players at the official postgame party.
The game will be on TV live on TWCS Channel 26 in Rochester.  You can also listen live on WHTK 1280AM www.whtk.com
See you at the game!