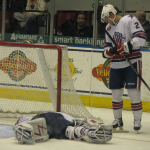 I think everyone in Blue Cross Arena on Sunday evening for a brief moment saw the entire season go down the drain when Alexander Salak was laying on the ice injured. His replacement was booed before he even reached the goal crease.
Well, the good news is that he is only expected to miss two weeks with an "upper body injury." The bad news is that the Amerks have nine games in the next two weeks, six of those games against divisional opponents.
Another goalie is going to be brought in, not sure who at this time. An early guess would be Ryan Mior who played well a couple weeks ago vs Abbotsford. Chris Beckford-Tseu does not appear to be going anywhere. He needs to play better and that is something that has been said since he arrived, unfortunately it has not happened.
By the time Salak returns, if he returns on time, the Amerks will be going into the second half of the season already. It's time for the offense and defense to start playing smarter hockey and making less mistakes. The lineup is depleted and players are injured but that doesn't mean you give up the puck at center ice or fail to clear the puck.
I'll post an update as soon as I find out who the replacement goalie will be.