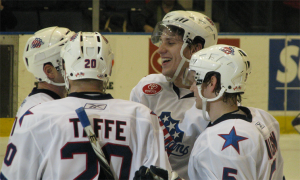 The Amerks defeated the Hamilton Bulldogs on Saturday night in front of 7,083 fans to take back first place in the North Divsion.  A pair of goals from Jeff Taffe, a fancy goal by Evgeny Dadonov and an unlikely empty netter by Keaton Ellerby gave the Amerks a 4-2 win.
The win ends the four game skid for the Amerks and likely gives the team a little more confidence in themselves and the pieced together lineup.  Graham Mink had been out hurt for the past two weeks but decided enough was enough and suited up to play.
Ryan Mior got the job done with 45 saves.  The defense is another story, but that's nothing new.
It was a great post holiday crowd and even better that the team found a way to win.  I had to leave right after the game to visit family in Buffalo which explains the lack of a better writeup.
Here's links to Kevin O's coverage in the D&C:
Was it a pretty victory? Depends how you look at it

Rochester Amerks defeat Hamilton Bulldogs
The team is back on the ice for another home game Sunday afternoon at 5pm against the Binghamton Senators.
——-
Hamilton Bulldogs 2 At Rochester Americans 4 – Status: Final
Dec 26, 2009 – Blue Cross Arena
Hamilton 1 0 1 – 2
Rochester 0 1 3 – 4
1st Period-1, Hamilton, Darche 12 (Desharnais, Weber), 12:19 (pp). Penalties-White Ham (fighting), 4:19; Henry Rch (fighting), 4:19; Dadonov Rch (high-sticking), 6:26; Carle Ham (slashing), 9:41; Ellerby Rch (interference), 10:09; Mink Rch (tripping), 11:48; Belle Ham (holding), 18:16; Carle Ham (tripping), 18:38.
2nd Period-2, Rochester, Dadonov 6 (Wilson, Ellerby), 5:05 (pp). Penalties-Neilson Ham (tripping), 3:42; Mink Rch (interference), 13:44; Caruso Rch (slashing), 19:39.
3rd Period-3, Hamilton, Benoit 1 (Maxwell, Desharnais), 1:07 (pp). 4, Rochester, Taffe 8 (Ellerby, Repik), 5:49. 5, Rochester, Taffe 9 (Ellerby, Wilson), 13:22. 6, Rochester, Ellerby 5 (Taylor, Repik), 19:58 (en). Penalties-Conboy Ham (tripping), 4:45; Dadonov Rch (high-sticking), 5:14; Schulz Rch (delay of game), 8:48.
Shots on Goal-Hamilton 10-17-20-47. Rochester 12-6-5-23.
Power Play Opportunities-Hamilton 2 of 7; Rochester 1 of 5.
Goalies-Hamilton, Sanford 9-6-2 (22 shots-19 saves). Rochester, Mior 2-2-0 (47 shots-45 saves).
A-7,083
Referees-Nygel Pelletier (41).
Linesmen-Derek Sylvester (76), Peter Feola (33).