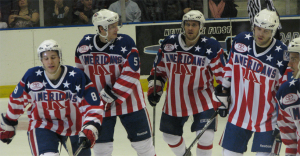 After a month long skid for the Rochester Americans I believe that things are headed back in the right direction.  The Amerks won their second game of the weekend by defeating the Binghamton Senators 5-3 in front of 4,367 in downtown Rochester on Sunday evening.  There are still some concerns, but the lineup that has been depleted by call ups and injuries seems to be finding it's way.
The AHL has 43 transactions for the Amerks just in the month of December and there's still a few days left.  That is a lot of change.  Within the month of December was also a number of injuries, the tail end of a six game road trip, a hectic travel schedule, and very few regular practices.  Those are not excuses, they are facts that impact consistency and chemistry.  It's only two wins, but they're wins that will give the team a much needed boost of confidence.
It also helps to have Jeff Taffe back in the lineup playing on a line with Jamie Johnson and Michal Repik.  Those three players combined for a total of six points on Sunday.  The two assists for Johnson gives him 32 points (13+19) in 34 games this season.  Michal Repik has 24 points (9+15) in 26 games.  Jeff Taffe has 21 points (10+11) in 22 games this season.
The first three Amerks goals were basically scored the same way.  Dylan Hunter, Jeff Taffe, and Keaton Ellerby tallied those goals with passes from behind the net.  Mike Brodeur was pulled following the third goal.
Clay Wilson was robbed of a +1 on the third goal of the game on the official score sheet.  Somehow Andrew Sweetland was credited for being on the ice but as the picture on the article shows Clay Wilson was on the ice.
Jordan Henry's goal at 5:12 of the third period was a beauty as he skated from end to end and was able to finish the play by putting the puck in the net.  He said after the game that he saw the Senators were in the middle of a line change and he just went for it.  That goal turned out to be the game winner.
Evgeny Dadonov finished the scoring by scoring his seventh of the season on the power play after some great passing by Jordan Henry and Jeff Taffe.
The fans, the coaches, and the players all know these two games were not perfect but the coaches and players are looking at the weekend in a positive light.  Based on the way the past month has gone I think that is acceptable.
Jordan Henry talked after the game about the good weekend and that the team seems to be getting its form back.
Benoit Groulx was happy to end the weekend with two wins.  He talked after the game about the lack of quality practice time due to the busy schedule but is happy with the way the team seems to be putting things together.
Ryan Mior made some big saves when they were needed and earned his second straight win.  Did he let in some questionable goals?  Sure, but it was only his fifth American Hockey League game.  In staying with the positive theme he seems to be improving instead of going in the other direction.
The team is back on the ice for an optional skate on Monday morning and probably a full practice on Tuesday before the finish out 2009 on the road against Hamilton and Lake Erie.  The Monsters are currently riding a four game winning streak, including their recent 6-2 win over the Amerks.  The Amerks and Bulldogs have traded wins in their past two.
I talked to Benoit Groulx, Jordan Henry, Jeff Taffe, and Jamie Johnson after the game.  All of them were positive about the weekend and all know there's still work to be done.  I had a busy and great holiday weekend and wanted to end it on a positive tone.
The only thing Groulx would say after the game about Mike York is that he will not play again in 2009.  I asked Tyler Plante about his possible return and I could sense the frustration when he said he wasn't sure.  He said that he has skated the past few days and is hoping his knee is finally better.
One last thing, congrats to former Amerk goalie Mike Brodeur for recently getting married!!
——
Binghamton Senators 3 At Rochester Americans 5 – Status: Final
Dec 27, 2009 – Blue Cross Arena
Binghamton 0 1 2 – 3
Rochester 0 3 2 – 5
1st Period- No Scoring.Penalties-served by Calla Rch (bench minor – too many men), 1:11; Calla Rch (delay of game), 7:32; Smith Bng (fighting), 17:16; Henry Rch (fighting), 17:16; Sweetland Rch (delay of game), 18:36.
2nd Period-1, Rochester, Hunter 1 (Sweetland, Calla), 1:15. 2, Binghamton, Hennessy 11 (Baier, Daugavins), 3:01. 3, Rochester, Taffe 10 (Johnson, Repik), 8:41. 4, Rochester, Ellerby 6 (Johnson, Repik), 13:51. Penalties-Zanoski Bng (tripping), 6:10; Repik Rch (slashing), 16:59; served by Bailey Bng (bench minor – too many men), 17:58.
3rd Period-5, Rochester, Henry 4 Â  5:12. 6, Binghamton, Hamel 13 (St. Pierre, Smith), 9:34 (pp). 7, Rochester, Dadonov 7 (Henry, Taffe), 16:24 (pp). 8, Binghamton, St. Pierre 13 (Baier, Hennessy), 18:48. Penalties-Hunter Rch (hooking), 9:01; Smith Bng (hooking), 14:52; Hamel Bng (slashing, roughing), 16:24; Wilson Rch (roughing), 16:24.
Shots on Goal-Binghamton 12-6-18-36. Rochester 4-15-8-27.
Power Play Opportunities-Binghamton 1 of 5; Rochester 1 of 4.
Goalies-Binghamton, Brodeur 5-5-1 (15 shots-12 saves); Chiodo 5-10-0 (12 shots-10 saves). Rochester, Mior 3-2-0 (36 shots-33 saves).
A-4,367
Referees-Chris Brown (86).
Linesmen-Justin Prusak (70), Fraser McIntyre (94). +