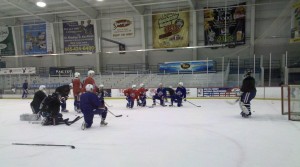 It's a been a rare thing for the Amerks over the past month to have a practice but they finally had one Tuesday morning. It seemed like just about the whole team was back together too.
Mike York, David Brine, Tyler Plante, Rory Fitzpatrick, and Luke Beaverson were all on the ice. Rory said he'll be back on January 8th. I did not get the chance to talk to anyone else, was only at ESL to get my kid signed up for a camp and happened to get there near the end of practice.
The team is getting back in the right direction and should be just about back to the full team by the time they play Grand Rapid on January 8th. Next week they'll have a week of practice which will help out even more.
Next game is Wednesday night on the road in Hamilton and on Thursday at 5pm against Lake Erie. I'll have the live chat going for Wednesdays game.
Team Canada All-Star roster is announced at 2pm. I asked Jody Gage who was going and he said he was sworn to secrecy.