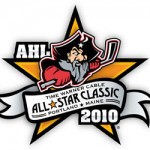 It's that time of year again for the AHL All-Star rosters to be announced.  The playing rosters for the 2010 Time Warner Cable AHL All-Star Classic will be announced on Tuesday and Wednesday.  The 24 man roster for Team Canada on Tuesday at 2pm and the PlanetUSA roster on Wednesday at 2pm.  I'll post the rosters when I have a moment but to get them right away keep an eye on theahl.com.
The 2010 Time Warner Cable AHL All-Star Classic will feature the 2010 AHL All-Star Skills Competition on Monday, January 18 (8:00 p.m. ET) and the 2010 AHL All-Star Game on Tuesday, January 19 (6:00 p.m. ET), and will be televised live nationally in the United States and Canada.
We'll be going to the game in Portland and will provide excellent coverage for the second year in a row.  It's always easier the second time around.
Amerks forward Graham Mink has already been named the captain of PlanetUSA.  I'm guessing that Jamie Johnson will be announced on Tuesday as part of the roster for Team Canada.  Johnson is currently 7th in the league in scoring with 32 points (13G+19A).
Alexander Salak would have been a guaranteed pick for PlanetUSA prior to his shoulder injury.  It's possible he could still be picked and if he doesn't recover in time someone else will be named to the team.
Benoit Groulx and Jason Cipolla were about one win away from being named coaches in the game.  The Amerks were third in winning percentage on Sunday so the nod went to the coaches of the Manchester Monarchs.  A couple of days off to spend with family probably isn't such a bad thing instead of traveling to Portland.