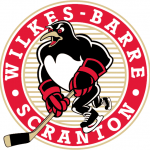 The Amerks are back in action tonight on the road against the Wilkes-Barre/Scranton Penguins at 7:05pm and looking to end a two game losing streak.
Rochester is coming off of a 5-1 loss to the Lake Erie Monsters on New Years Eve and a 4-1 loss the night before against the Hamilton Bulldogs. The Amerks are 5-9-1 since they last played the Pens on November 27th winning that game 4-3. The Amerks had a 4-0 lead after two periods and sat back as the Pens scored three third period goals to make it close. After the game the Amerks were 18-2-1 and getting ready for the long road trip.
It's easy to look back at the game and notice things changed. After that game the players talked about taking it easy the second half of that game as they looked towards the long trip. A lot has happened since that game I think mentally as well as injuries and call ups. The team has also had very few practices that has hurt chemistry and the ability to try and reconnect.
The Penguins are coming off of a 3-2 loss on Friday night but as Pens beat writer Jonathan Bombulie wrote everyone loses to the Bears these days. Since that game in November vs the Amerks the Pens are 8-8 and getting themselves back on track after they had a number of injuries and call ups as well.
The Pens have the advantage in this game based on goaltending with John Curry and Adam Berkhoel available, both goalies have shown they are decent at the AHL level. The Amerks have Chris Beckford-Tseu and Ryan Mior, two goalies still trying to find their way in the AHL.
The Amerks need to find a way to win tonight to start the new year off right ending a two game losing streak. They have a lot to look forward to with the next five days free of any games and a week or practice time.
I'll have the live chat up at https://lga585.com/livechat just after 7pm, stop by to talk hockey during the game.