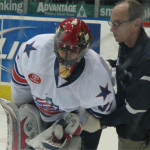 The story for the Amerks throughout the month of December was injuries and player moves, both up to the Panthers and fill ins from ECHL teams. The new year brings what should be some more stability to the team with a number of players returning Friday January 8th.
Here's a quick update on injuries and player moves:
Daniel Steiner rejoined the Amerks on Saturday after playing in the Spengler Cup tournament in Switzerland. In four games with the team he has three goals and one assist, one of those goals was scoring moments into the game on Saturday. His status with the team going forward could be in question because of his veteran status.
Daniel Tkaczuk was released today from his PTO. In 10 games he had two assists.
Shawn Matthias took a shot off the knee last Thursday against Lake Erie was scheduled for xrays today, hopefully its just a bruised knee.
Mike Duco was expected to put skates on and practice this morning. It was reported he had broken a bone in his foot so the skate going back on is the test to see if its healed. If all goes as planned he should be able to play this weekend.
Rory Fitzpatrick and Luke Beaverson are both expected back on Friday as well. These two should help the defense play a little more defensively. The biggest question will be if Fitzpatrick can be an impact player and stay healthy.
Mike York has been out of the lineup for personal reasons since early December and could also play. A couple weeks ago Benoit Groulx said York needed some practice time and its something he had last week and more this week.
The best update for last is that both Alexander Salak and Tyler Plante could be back on Friday as well. Jody Gage commented during an intermission interview with Don Stevens on Saturday that Salak was feeling strong and eager to return. I know Plante has been frustrated and also eager to return.
Jason Garrison, Victor Oreskovich, and Kenndal McArdle are still called up to the Panthers. Garrison should be back once Kulikov is healthy. McArdle is recovering from a shoulder injury and has started skating again. Oreskovich would provide a lot to this team with his speed and physical play but my guess is that the only way he comes back is if the Panthers don't make the playoffs but the Amerks do. He only played five games for the Amerks early in the season.
I expect that Dylan Hunter and AJ Thelen will both be released by the end of the week. I should have more updates after practice tomorrow.