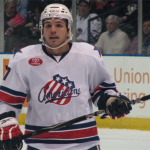 The Amerks were down and in need of a spark and that's what Bonneau was trying to do. In the second period he put Logan Pyett hard into the boards. Pyett was very slow getting up and went right to the bench. Later in the period he leveled Evan McGrath at the blue line and Ryan Stokes was immediately on him to drop the gloves. We've questioned here in Rochester how much the coach has said to not drop the gloves and if that's the case Bonneau did the next best thing, forced the other team to do it first.
Unfortunately his fight did nothing to spark the Amerks and the Grand Rapids Griffins won 6-3.
http://www.youtube.com/watch?v=4XZXfnXlEJ8
Enjoy!