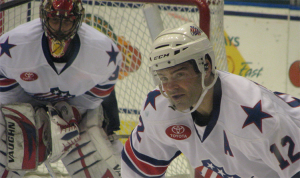 The Amerks lost the first game of a three game home stand to the Grand Rapids Griffins on Friday night by the final score of 6-3.  As the game entered the third period it was still a 2-2 game and it was still anyones game.  Grand Rapids took matters in their own hands and with four goals in the third period.
After the game Jimmy Bonneau said what a lot of us already know saying, "We have major problems and we have to switch things around really quickly.  I think it's everybody."
One of the problems is not Jimmy Bonneau.  He's playing his role.  In the second period he put defenseman Logan Pyett into the boards hard, Pyett was slow to get up and made his way to the bench.  Later in the same period he leveled Evan McGrath and right after that hit Ryan Stokes dropped the gloves to fight him.  Bonneau got an extra two minutes for interference but it was a penalty worth taking as he tried to create a spark in the team.  It didn't work.  A video of the fight will be uploaded soon.
"Lately it seems that we're doing the same mistakes over and over again," Benoit Groulx said postgame.  "Some guys are far from performing the way they can."
One line that I thought performed well was Jamie Johnson, Jeff Taffe, and Daniel Steiner.  That line was the reason the second and third goals were scored.  Steiner has a way of controlling the puck and making plays.  He's not afraid to go to the net or play the puck along the boards.
Groulx disagreed with my comment about their line.
"I don't think so.  So far to me Andrew Sweetland was our best player," he said.  "I can't pinpoint another guy who had a very strong game.  I'm not saying they were bad, I'm saying we can do much better than that."
Of course a lot everyone can do better than they did on Friday night.  As I think back on the comment I'm not sure if he was really serious.  Sweetland wasn't bad, but the best player?
The problem is that the "team" effort seems to have disappeared.  That talk about being proud to be a Rochester American.  Pushing themselves to work harder.  Being one unit.  The emotion left Blue Cross Arena on November 27th in the third period of the home game versus the Wilkes-Barre/Scranton Penguins and has not come back since.
The loss does not paint a very bright outlook for the game Saturday afternoon against the Lake Erie Monsters or the game on Sunday versus the Binghamton Senators.  As much as I try and think of an optimistic outcome I just can't.
"We can't put things together out there," Groulx said.  "When we need a goal we don't score.  When we need a big play we don't have it.  When we need a big stop we don't have it.  When we need a big power play we don't have it."
That raises the question, who gets the blame for all of those things?  Things certainly can't be blamed on injuries and call ups anymore.  They had a week of practices so that's not the reason.  Is it the defense?  Is it the offense?
Groulx responded, "We're not a very good skating team so when we don't have our legs like tonight it seems very tough to sustain pressure and to be first on the puck and keep on going on forecheck.  We gotta have our best legs to be on the puck and that was not the case tonight."
How can a group of professional hockey players not have their legs after being home all week?  They didn't spend the week traveling by bus.  They didn't have any games.  They had two long practices on Monday and Tuesday.  They had Wednesday off.  A practice on Thursday and regular gameday skate on Friday.
Alexander Salak returned to action and looked like he never missed a beat.  Unfortunately he allowed six goals on 35 shots.  He made a number of saves that will likely make a highlight reel but on some others it was obvious Grand Rapids had him figured out.  The formula seems pretty simple and it's something that was likely to be picked up on by other teams sooner or later.  Take the puck along one side of the ice, send another guy to the opposite side, make a big cross ice pass and you have an open net as Salak slides to get back into position.  That's just how he plays and that's where the defense needs to prevent those plays from happening.
Rory Fitzpatrick and Luke Beaverson both returned to action after being out for a while with injuries.  Fitzpatrick was himself and I thought played his game early on.  He wasn't afraid to hit anyone in front of the net, an aspect of the game that has been missing.  Beaverson on the other hand needs some playing time with the Florida Everblades.
Michael Caruso left the game early and did not return.  I forgot to ask what happened to him.
John de Gray has played in four games with the Amerks on loan from the Mighty Ducks and has been invisible.  I've seen him on the ice but can't think of one play he made.
That leaves the defense with Keaton Ellerby, Jordan Henry, and Clay Wilson.. a trio that will not be able to carry this team to a Calder Cup.
Sundays game is the 40th game of the season, the half way point of the season.  We've heard the lines that championships aren't won in October, but now is the time that teams start distancing themselves from everyone else and standing above the rest.  That's the opposite of what the Amerks have done in the second quarter of the season.
In October it appeared that this time had the tools to make the playoffs and be a contender, that is questionable now.  The only players missing from the lineup are Kenndal McArdle, Mike York, Mike Duco, and Jason Garrison.  I think that Steiner has stepped in well to play where York was.  Mike Duco would help to try and play a more physical game but it has been debateable how much of an impact he has really had in 20 games.  McArdle has only played 10 games so i don't think he would be the difference maker.  Jason Garrison was certainly an asset but I don't think he would be a game changer.  I don't even think of Victor Oreskovich anymore.  He'd be awesome to have but he only played five games.
The whole situation with Mike York is odd.  We've been told he's on personal leave and then tonight after the game Benoit Groulx said that York had his knee checked out by the doctors today and they said he was not ready to go.  York told Kevin Oklobzija that he had some family issues.  We've been asked to respect his privacy which I think everyone has but these little bits of information just do not make any sense.  At this point sign Daniel Steiner to take that veteran roster spot to ride out the rest of the season.
Kevin Oklobzija got a few more quotes from the locker room at Hockey O-Zone:
"The swagger, the mojo, whatever you want to call it, it's not here right now," Fitzpatrick said.

He said it was very apparent between the second and third period. The score was 2-2. In October and November, there was no chance the Amerks would lose the game. On Friday, the feeling in the room was different.

"The confidence is not here right now," Fitzpatrick said. "This team has enough talent here. We should be competing and playing and winning hockey games."

Center David Brine agrees. "We need to get that swagger back."

How? "You keep it simple. You get pucks deep, get pucks to the net, win a shift, win a period, win a game."
They've played 38 games, it's time to look at the banners hanging from the rafters, look at the pictures hanging in the locker room, look at all of the names painted on the walls of the locker room and get that excitement back of playing for the Rochester Americans earn their money.
Or maybe it's the coaching?  Something is going on and I suspect Jody Gage and Jack Birch are going to start having people ask them questions again much like early on last season.  This team has gone from an unstoppable threat to a team that probably wouldn't make it out of the first round of the playoffs if they could make it there.
I wish I could have written a better article that would encourage people to want to go to the game on Saturday afternoon but it was not possible.  If the team did not have their legs tonight I wonder what they'll have playing another game less than 24 hours later.
Game time on Saturday vs Lake Erie is at 2pm.