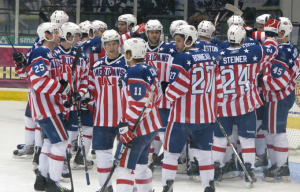 The Amerks game on Sunday was a game that they had to win and they did just that defeating the Binghamton Senators by the score of 6-1, the biggest margin of victory all season.  With the win they snapped a five game losing streak and moved back into second place in the North Divison.  The win also seemed to give them a boost of confidence and possibly get a little bit of that swagger back that they have been missing.
The team came out onto the ice for warm ups with no helmets on, even the goalies skated out with out helmets on.  It was not a move that was going to make them win.  It wasn't going to put any fear into their opponent.  But it was something that had the whole team on the same page.
Jamie Johnson led the team with three goals for the second hat trick of the season to be scored by the Amerks on home ice.  Jeff Taffe assisted on all three goals and Daniel Steiner assisting on two as well.  The line of Johnson, Taffe, and Steiner was the best line on the ice, a great rebound after they were -3 the previous game.
Alexander Salak seemed to be back to his original self making a number of great saves all over the ice.
The Binghamton Senators have not been a top team of the league so this was a game that they were supposed to win.  The past few weeks have not been very pretty for the Amerks but the way this weekend progressed from Friday to Sunday evening gets back that sense of optimism.
Apologies for the lack of quotes, I'll have a follow up on Monday evening.