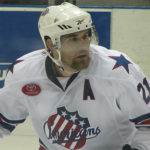 Here's a quick update on current injuries with the Rochester Americans that I know of.
Graham Mink – still having issues with his back and is hoping to play at least one game if not both this weekend.  He's also scheduled to be Captain PlanetUSA at the All-Star Classic on Monday and Tuesday.  There's barely any phsyical contact at that event so I imagine he'll have no issues there.
Michael Caruso – hurt his shoulder last Friday early in the game and did not return.  He told Kevin O that he'll likely sit out this weekend.
Mike Duco – when I stopped into practice breifly on Tuesday morning he was skating so I imagine he'll be ready to play this weekend.
Steve MacIntyre – he has also been skating and should be ready to play.  The Amerks play in Syracuse on Saturday and I'm sure a heavyweight bout between him and Mirasty will be on the card.
And now for Mike York.  Here's what Kevin posted:
Amerks VP of hockey operations Ted Nolan said Mike York will definitely be back with the team, but it still could be another two or three weeks.

Nolan said York is seeing the team doctor today regarding his troublesome knee. While the personal matters that sent him on a leave of absence on Dec. 3 apparently have been addressed, the knee ailment is now complicating the situation.

Network television is canceling daytime soap operas; the Amerks continue with the pilot episode of No York, No York. They just don't have Frank Sinatra singing the theme song.
Due to the odd situation with York there have been a number of rumors floating around which is unfortunate but makes sense given all of the excuses.  Hopefully he returns to action soon and all of this can be put behind.
Kenndal McArdle has started skating again in Florida after being out with a shoulder injury.  He could be sent back to the Amerks to get in game shape and stay.  The Panthers have liked the way McArdle has played down there so they could just keep him.
Dmitry Kulikov is also close to returning for the Panthers from a knee injury and when that happens we'll get Jason Garrison back in an Amerks uniform.
After Saturdays everyone will get a few days off for the All Star break which should help all of the injuries heal.