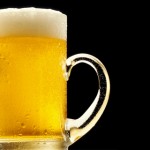 The promotion for Dollar Dogs 'N Drafts being extended for the rest of the season is some great news heading into the second half of the season.  This is a great deal for fans and also a great sign that SMG and the Amerks seem to have a great partnership going.  Here's the rest of the press release put out by the team:
(Rochester, NY)… The Rochester Americans, in conjunction with Blue Cross Arena Management Group SMG and Savor Catering, announced today that the very popular Friday Night "Dollar Dogs 'N' Drafts" promotion has been extended to each and every Friday night Amerks home game through the rest of the season. It was previously announced as a four-game package that would have concluded with the Amerks home game on January 29th.
"Consistent with our ultimate goal of offering the very best entertainment experience for our fans, we believe that this promotion has been met with a lot of enthusiasm," stated Amerks President Lewis Staats. "We want to continue to make strides to make our games the place to be not only on Friday nights, but for each and every home game," he added.
Jeff Calkins, General Manager for SMG, believes that the success of the first two Dollar Dogs 'N Drafts games makes extending the promotion an easy decision.
"In our business, we must look at every possible option to make the fan experience the very best we possibly can," stated Calkins. "Clearly the first two games indicate that fans enjoy this promotion, and we hope that even more folks take advantage of it now that they know every Friday night will be a Dollar Dogs 'N' Drafts game with the Amerks."
Zweigle's, the official hot dog of The Blue Cross Arena and the Rochester Americans, has once again supported the Amerks in this promotion, in addition to presenting the very popular Red Hot Sundays and Family Four Packs with the team.
"We feel strongly that a vibrant Amerks franchise makes our community that much stronger," stated James Vacanti, Zweigle's Sales Manager and Chair of the new Amerks Business Advisory Committee. "We will continue our tradition of support in various team programs designed to return our Amerks to elite status in the American Hockey League."
Fans can take advantage of the Friday Night Dollar Dogs 'N' Drafts promotion on the following dates:
Friday, January 22nd vs. Hamilton at 7:05 p.m.
Friday, January 29th vs. Albany at 7:05 p.m.
Friday, February 5th vs. Hamilton at 7:05 p.m.
Friday, February 12th vs. Abbotsford at 7:05 p.m.
Friday, February 26th vs. Manitoba at 7:05 p.m.
Friday, March 12th vs. Albany at 7:05 p.m.
Friday, March 26th vs. Binghamton at 7:05 p.m.
Friday, April 2nd vs. Hershey at 7:05 p.m.
Friday, April 9th vs. Toronto at 7:05 p.m.
Fans can purchase $1 dollar hot dogs and draft beers from 6:00 to 8:00 p.m. at three locations inside The Blue Cross Arena on any of the above dates. Locations will be behind sections 102 and 108, along with the Upper Atrium Bar.
For ticket information, call the Amerks at (585) 454-5335 or go online to amerks.com. Groups of 10 or more interested in attending and  Dollar Dogs 'N' Drafts night should contact the Amerks Group Sales Department at (585) 454-5335 for special group pricing and save from regular box office prices.