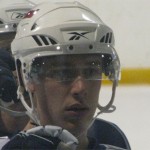 The Florida Panthers have called up Keaton Ellerby and Steve MacIntyre for their game tonight against the Tampa Bay Lightning.
Ellerby is still looking to play in his first regular season NHL game. He has been called up twice but is yet to play. Bryan Allen didn't make the trip so he should finally get his chance. I'm hoping he's back in time for not only the Amerks games this weekend but the All-Star Classic which starts on Monday.
MacIntyre joins the Panthers for the fourth time after being claimed on waivers in early November. Nick Tarnasky was hurt during last nights game. I'm sure Crunch fans would like to see him back on Saturday so they can witness a heavyweight bout on home ice between him and Mirasty.
Shawn Matthias was called up on Wednesday but did not play. He was there in case Nathan Horton couldn't play but will probably play tonight.
Just as we thought the trend of callups was over it has possibly started again. The Amerks next game is Friday night on the road against the Bulldogs and then they'll travel to Syracuse on Saturday.