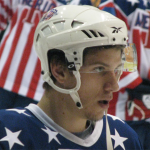 The good news for the Amerks today is that Keaton Ellerby and Shawn Matthias will be joining the team for its two road games this weekend.
Keaton Ellerby finally got the chance to play in his first NHL game of his career on Thursday against the Tampa Bay Lightning. His total time on the ice was 4:58 and he ended the game as a -1. One NHL game doesn't make a career and those numbers shouldn't be looked into too much. A decent week for Ellerby playing in his first NHL game and will play in the AHL All-Start Classic skills competition and game Monday and Tuesday.
Shawn Matthias was called up on Wednesday but did not play in a game, he was a healthy scratch for the Panthers. Its probably disappointing but at least he got a better paycheck for a couple days.
The Amerks travel to Hamilton tonight to take on the Bulldogs tonight, game time is 7:30pm.