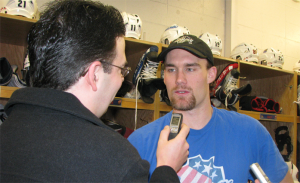 The "Insert Sponsor Name Here" skills competition is set to begin soon and to answer the number one question of Amerks fans, yes Graham Mink is going to be taking part in at least the skills competition.  So now you're asking, how is he able to play in what many consider a silly exibition event but not with his team that needs him?  Easy, he doesn't have to worry about anyone hitting him tonight.  He said he'll see how it goes tonight and make a decision for tomorrow.
As for the fun words exchanged with Keaton Ellerby, I asked him about having to skate against Ellerby and Mink replied with, "that's easy, I dominate him during every practice."
So I headed over to the Team Canada locker room and told Ellerby what Mink had said.  Keaton replied with, "tell Mink that if he comes near me I'm going to hit him hard into the boards."
And then I walked back over to PlanetUSA's locker room to tell Mink.  "Yea if by hit me you mean give me a kiss, no problem," Mink replied.
Keaton Ellerby replied with, "Tell Mink that he's going to get fined by the team for playing in this but not playing in our games."
Ooooohhh!  Take that Graham Mink!  The locker rooms were closing up so I couldn't continue with that but certainly will after the event.  It's a fun spirited atmosphere in both locker rooms as the players get to friends they have not seen in a while.  It's also a time for what would seem like enemies on the ice to hang out.
I ran into Hershey Bears Coach Mark French who asked about Graham Mink and he also said to me, "You guys have a pretty good team this year… if Florida would leave it along."
It's been interesting that everyone we talk to makes a comment about the season the Amerks are having and how things have turned around from the last couple of seasons.
The players are on the ice warming up, will write more about the skills competition as it happens along with more from interviews with some players.