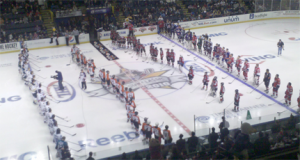 The skills competition is an interesting event to watch as players try and show off their best moves and skating abilities.
Somehow these All-Star events are able to sell a million sponsorship deals for every event and announcement but I'm yet to sell a single ad here (although I have never tried).
Heading into the Reebok Fastest Skater competition Bobby Sanguinetti of the Hartford Wolfpack was asked What's they key to winning this?  He answered, "Don't fall!"
Bobby Sanguinetti followed up his comment by going out and setting a new AHL record with 13.677 seconds in the competition.  The previous record was set by Ralph Intranuovo with 13.683 seconds in 1996.
Alexandre Salak allowed 4 goals in the and the posts made 2 key saves in the Rapid Fire competition.  To be fair, the goalies have everything going against them in this competition.  They have to quickly go from side to side as each player fires pucks at them.  Top corner glove side was weak for each goalie.
Keaton Ellerby is about to participate in the Reebok Hardest Shot competition.  It's unlikely he'll beat any sort of record here but maybe we're in for a surprise.
Blair Jones became only the third AHL player to hit a shot over 100mph.  He hit a shot at 100.7mph and said the key was, "hit it hard and not fall down."  Notice an amusing trend there?  The other two players to hit one over 100mph was Kurt Foster at 101.0mph and Mark Mancari with the record at 102.8.
Keaton Ellerby's hardest shot came in at 93.7mph.  Not quite sure why he was in the hardest shot competition considering his skating is more of an asset than a slapshot.
In the McDonalds Pass and Score competition Keaton Ellerby was paired with Charles Linglet and Ryan Keller and the three of them scored two goals against Alexander Salak.  Ellerby had a chance at a back hand in an open net but couldn't get his stick on it.  Ellerby setup Ryan Keller with a pass to score the other goal.  I think Ellerby let Keller know the trick to beating Salak.
Alexander Salak played dirty during the Breakaway Relay against Alexandre Giroux to make a save.  Salak made a save against the previous shooter Corey Locke and the puck stayed on the ice in front of him.  As Giroux started skating in Salak passed the puck towards Giroux to try and throw him off.  The only player to score a goal against Salak was Tyler Ennis of the Portland Pirates who slipped one through the five hole.
And that's it for the skills competition, the results are below.  I'll have more throughout the day tomorrow.
Time to have some fun at the after party!
Event 1 – Sher-Wood Puck Control Relay
Canadian
PlanetUSA
Heat #1
Trevor Fleurent (RBC Future Stars)
Cam Cain (RBC Future Stars)
Matthew Michaud (RBC Future Stars)
Dan Hanley (RBC Future Stars)
Winning RBC Future All-Star team earns one goal: Canadian
Heat #2
Tyler Ennis (POR)
Jonas Junland (PEO)
Martin St. Pierre (BNG)
Sergei Shirokov (MTB)
Corey Locke (HFD)
Jack Skille (RFD)
Winning team earns one goal: PlanetUSA
Heat #3
Cal O'Reilly (MIL)
Viatcheslav Voynov (MCH)
Winning player earns one goal for team: Canadian
Event 2…
Event 2 – Reebok Fastest Skater
Canadian
sec.
PlanetUSA
sec.
Heat #1
Trevor Fleurent (RBC Future Stars)
14.810
Cam Cain (RBC Future Stars)
15.590
Heat #2
Matthew Michaud (RBC Future Stars)
15.394
Dan Hanley (RBC Future Stars)
14.658

RBC Future Star with fastest time earns one goal for team: PlanetUSA

Heat #3
P.K. Subban (HAM)
15.151
Bobby Sanguinetti (HFD)
13.677
Heat #4
Ryan Keller (BNG)
14.384
Lars Eller (PEO)
13.790
Heat #5
Dustin Kohn (BRI)
13.997
Mark Cullen (RFD)
14.584
Individual with fastest time earns one goal for team: PlanetUSA
Fastest team average time earns one goal: PlanetUSA

Event 3…
Event 3 – RBC Rapid Fire
PlanetUSA
Canadian
Saves
Goals
Round #1
Anton Khudobin (HOU)
Maxim Noreau (HOU)
4
1
Charles Linglet (SPR)
4
1
John Carlson (HER)
Cedrick Desjardins (HAM)
5
0
Christian Hanson (TOR)
4
1
Round #2
Alex Stalock (WOR)
Dustin Jeffrey (WBS)
3
2
Alexandre Giroux (HER)
3
2
Mikko Lehtonen (PRO)
Justin Peters (ALB)
4
1
Patrick Rissmiller (GR)
2
3
Round #3
Alexander Salak (RCH)
P.K. Subban (HAM)
4
1
Logan Couture (WOR)
2
3
Sean Sullivan (SA)
Jonathan Bernier (MCH)
2
3
Nathan Gerbe (POR)
3
2

Team with the most total saves earns one goal: Tie – both earn point
Event 4…
Event 4 – Reebok Hardest Shot

Canadian
mph
PlanetUSA
mph
Danny Groulx (WOR)
95.5
Ivan Vishnevskiy (HER)
96.3
Blair Jones (NOR)
100.7
Viatcheslav Voynov (MCH)
94.0
Jason Jaffray (ABB)
92.6
Bobby Sanguinetti (HFD)
89.7
Keaton Ellerby (RCH)
93.7
Mike Weber (POR)
91.5
Team with the higher average speed earns one goal: Canadian
Player with hardest shot earns one goal for team: Canadian
Event 5…
Event 5 – Ducks Unlimited Accuracy Shooting
Canadian
hits
att
PlanetUSA
hits
att
Trevor Fleurent
(RBC Future Stars)
4
8
Cam Cain (RBC Future Stars)
3
7
Matthew Michaud
(RBC Future Stars)
2
7
Dan Hanley (RBC Future Stars)
1
8
RBC Future Star with most hits in fewest attempts earns one goal for team: Canadian
Jon Matsumoto (ADK)
4
5
Keith Aucoin (HER)
3
8
Corey Locke (HFD)
4
7
Brett Sterling (CHI)
4
8
Andrew Gordon (HER)
4
7
Nathan Gerbe (POR)
3
8
Player with most hits in fewest attempts earns one goal for team: Canadian

Team with most total hits in fewest attempts earns one goal: Canadian
Event 6…
Event 6 – McDonald's Pass and Score

Canadian
PlanetUSA
goals
saves
Heat #1
Nolan Baumgartner (MTB)
Anton Khudobin (HOU)
1
2
Tyler Eckford (LOW)
Bryan Rodney (ALB)
Heat #2
Cedrick Desjardins (HAM)
Graham Mink (RCH)
1
1
Dan Fritsche (SYR)
Ivan Vishnevskiy (TEX)
Heat #3
Cal O'Reilly (MIL)
Alex Stalock (WOR)
2
1
Martin St. Pierre (BNG)
Danny Groulx (WOR)
Heat #4
Justin Peters (ALB)
T.J. Hensick (LE)
0
3
Sean Sullivan (SA)
Patrick Rissmiller (GR)
Heat #5
Charles Linglet (SPR)
Alexander Salak (RCH)
2
1
Keaton Ellerby (RCH)
Ryan Keller (BNG)
Heat #6
Jonathan Bernier (MCH)
Andy Wozniewski (PRO)
1
2
Lars Eller (PEO)
Jack Skille (RFD)
Each individual goal scored counts toward overall team score: Canadian 5, PlanetUSA 2

Event 7…
Event 7 – EA Sports NHL 10 Breakaway Relay
Canadian
goal
save
PlanetUSA
goal
save
Round #1
P.K. Subban (HAM)
1
John Carlson (HER)
1
Jon Matsumoto (ADK)
1
Mark Cullen (RFD)
1
Jason Jaffray (ABB)
1
Christian Hanson (TOR)
1
Tyler Eckford (LOW)
1
Dan Fritsche (SYR)
1
Martin St. Pierre (BNG)
1
Patrick Rissmiller (GR)
1
Maxim Noreau (HOU)
1
Andy Wozniewski (PRO)
1
vs. Anton Khudobin (HOU)
vs. Cedrick Desjardins (HAM)
Round #2
Bryan Rodney (ALB)
1
Ivan Vishnevskiy (TEX)
1
Ryan Keller (BNG)
1
Keith Aucoin (HER)
1
Blair Jones (NOR)
1
Mikko Lehtonen (PRO)
1
Dustin Kohn (BRI)
1
Jonas Junland (PEO)
1
Andrew Gordon (HER)
1
T.J. Hensick (LE)
1
Logan Couture (WOR)
1
Mike Weber (POR)
1
vs. Alex Stalock (WOR)
vs. Justin Peters (ALB)
Round #3
Nolan Baumgartner (MTB)
1
Graham Mink (RCH)
1
Corey Locke (HFD)
1
Sergei Shirokov (MTB)
1
Alexandre Giroux (HER)
1
Brett Sterling (CHI)
1
Dustin Jeffrey (WBS)
1
Viatcheslav Voynov (MCH)
1
Charles Linglet (SPR)
1
Lars Eller (PEO)
1
Tyler Ennis (POR)
1
Nathan Gerbe (POR)
1
vs. Alexander Salak (RCH)
vs. Jonathan Bernier (RCH)
Each individual goal scored counts toward the overall team score: Canadian 5, PlanetUSA 5
And the final score…
2010 Ducks Unlimited AHL All-Star Skills Competition
Scorecard
1
2
3
4
5
6
7
Total
2
0
1
2
3
5
5
18
1
3
1
0
0
2
5
12