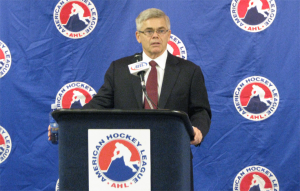 On the second day of the All-Star event the President and CEO of the AHL David Andrews stands in front of the media to talk about the league and answer questions everyone has.  It was a smaller group of the media this year than last year.  That was one of the first things Andrews commented on was the lack of beat writers and a sign of the times with print media.
Edit: Thanks for checking out the site, this was a rough draft of everything covered.  If you would like to listen to the entire state of the league address you can download it here:
Listen Part 1: MP3 // Listen Part 2: MP3
I'll run down just about every topic covered, starting with a few things that could directly impact Amerks fans.
— There are no plans right now to move Rochester to the East.  That could obviously change if a new team comes into the league and depending where they are but as of right now the layout of teams next year will be the same as this year.
— There will not be a reduction in the number of games played.  This was a big topic of discussion last year and about three quarters of the teams were for reducing the schedule but they could not reach the number needed.  Andrews said it was a very tiring project and when it did not work out it was time for a break.  When it comes down to it the teams that do fill their buildings every night did not want to lose the revenue.
— Salary cap..  There is discussion and the AHL is the only league in pro hockey without a cap but it's unlikely it will happen.  The collective bargaining agreement expires in September and the possibility of a salary cap will be talked about but again unlikely.  The views on some form of cost control are similar to that in schedule reduction, some teams in favor, some teams oppose, and there is not a lot of agreement.  The whole point would be for some form of protection to control cost and level the playing field of teams.  Hershey has been successful with signing players and  no one wants to knock success and they have the resources to stay competitive.  The one tricky part is that they could have a cap but what does it do to affiliation fee's?  NHL teams will say thanks for paying the the players less but the fee's stay the team.  If anything does happen the concern about driving players away is not that big of a concern as it might drive 4 or 5 guys but if it levels the playing field their's some value in it.  They're not going after the 95% of the players earning a living.
— Some discussion about adding an official, hasnt been a lot of pressure for that.  No push for it by the NHL.  The NHL wants better supervision and coaching for the officials.  When they've looked at the difference in penalties called with one versus two officials it was generally the same.  The other issue is with buildings have the space needed for it and the league as well.
— The AHL as a business is doing well.  There is a 4-5% decline in ticket revenue right now, which is about the same as last year at this time and but the end of the year they were only down about .5% at the end of the season.
— With attendance about 1/3 of the teams are doing better, 1/3 are the same as last year, and about 8 or 9 teams are having difficult years.  The attendance issues can sometimes be related to performance, sometimes economy.  It has certainly hit different areas differently.
— A lot more injuries than we're used to at the NHL level and the player callups are about 30% ahead of last year with players recalled to the NHL.
— Interesting to note that the Washington Capitals had planned to call up John Carlson but when they found out he would have missed this All-Star event they decided against it.
— No site yet determined for 2011 All-Star Classic.  They've done a lot of planning but no site finalized.  Two or three sites in discussions and it will probably be held around January 30th date.  Andrews said there was no bidding process, Andrews has a plan and is negotiating.. are having discussions with Hershey and others.
— For the 2011 event the league will replicate the 1942 game and play East / West format with throw back uniforms.
— Simple answer about Lowell is that the NJ Devils base their affiliate on player development.  They are in negotiations with Lowell and it's their first choice.
— Carolina wants an affiliate closer to them, league wouldn't be opposed to have a team down there.  A number of things can happen and the news of Carolina wanting something down there doesn't say anything about Albany.
— Five or six expiring affiliation agreements at the end of this season.  We should expect a couple announcements in a few weeks of teams extending affiliations.  Dave Andrews is the only one who knows the teams.
— Edmonton has given every indication they do plan to go to Oklahome City but they have not pulled the trigger yet.  They dont want to cut ties with Springfield so they're making sure everything is going to happen, it's a great working relationship.  On a scale of 1-10 they are at about an 8 that they will activate in OKC.
— Iowa is on the market and for sale. Some have shown interest in buying and moving it and some with keeping it in Iowa.  They'd need an affiliate and Anaheim is the only team without an affiliate.
— Texas has a temporary franchise and spring meeting is the time it'll get resolved about what they're doing next season.  It is expected to happen that they'll find a franchise.  The exception won't be extended if they can't buy a franchise.  Andrews said never say never but he doubt's the league would.  Iowa was complicated at the time and a sale wasn't easy, is easier now.
— No problems with logistics with Abbotsford, no teams have complained about having to go up there.  Confident they'll continue to grow.
— Group sales are more than 30% of business around the AHL.
— Adirondack is doing really well, a success story.
— The move to Abbotsford was not a strategic move by the league, was a move by the Flames to put a team out there.  Not the doorway to moving to the West.
— Abbotsford gets to play more teams with more teams playing them.
— West coast potential is there, a West coast solution is not imminent though.  Some West teams think being East is better for player development so the players are not traveling as much.  Andrews said that he has no idea where West coast teams would get franchises though.
— Chris chelios is an incredible athlete, one of the best players on the ice when they saw him.  They're happy to have him in the league.
— No plans to have an outdoor game as a feature event. In Syracuse its a Syracuse event, not an AHL event.  I think it's a given the game will be on national TV but a contract has not been signed.
— Made it very clear to players that if you target players from behind or a hit to the head you'll be suspended and lose salary.
— A player wishing to use the Messier helmet would be allowed to if the player and doctor came ot the league.  It's not an unsafe helmet.  Concussions are almost always because helmet is not worn properly.  No real evidence showing that the Messier helmet is any more safe than the RBK helmet.  Most concussions are caused by hits to the face, not to the head and the helmet.– Agreement between NHL and Canadian MJH that prevents players to be sent back. Its a big business in Canada.  Selfishly I'd say yes we want those players in our league but there's no talk about changing that.
— Andrews said that there has been a slippage in hooking and holding penalties being called in both leagues.  If it slips any more the more it slows down the game and they'll really need to address the issue again.
— No talk about replay, it's really a cost issue.  The board of governors is convinced that if you don't have what the NHL has the replay system is not trustworthy enough and it can cause more controversy without the proper equipment.
— When asked about HD equipment for broadcasts he said that there has been no talk but there should be.  They would love to have better camera angles.  The quality has improved in recent years and again it's a cost issue.