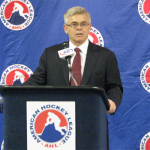 I posted a recap of the 2010 AHL State of the League Address on Tuesday that gave the general idea of what was discussed but here's the audio you'd like to listen to the whole thing.  I know it's just what you were looking for to listen to at the gym over the weekend.
I recorded the audio into mp3's during the All-Star game and will be honest in saying I did not listen to the whole thing but the quality should be pretty good the whole way through.
Andrews goes into a lot more detail about what was discussed and you may even be able to "read between the lines" on some things talked about.
Thanks to Bob and Jason over at The Power Play Post Show for hosting the files.