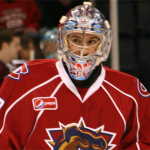 The AHL All-Star break is over and it's time to head into the final months of the 2009-2010 hockey season and the race in the North Division is going to be a close one.  The Hamilton Bulldogs started to pull away a little bit but with a three game winning streak the Amerks are back within seven points.  A three game home stand for the Amerks should be just what they need to get themselves back in the race.
There was a combined 10 regulation goals scored in the previous meeting between these two teams last week so it'll be interesting to see if both teams really have figured each other out.  Alexander Salak and Cedrick Desjardins were both at the AHL All-Star Game this week and will be riding the momentum of that experience.  I could be wrong though and Sanford could get the start.
I would say that Graham Mink is probably for the game.  He has skated in practice for two weeks now and played fine at the All-Star game (even though there was no contact).  If he's back in the lineup and 100% on a line with Dadonov and Taylor along with the second line of Taffe, Steiner, and Johnson it could be another high scoring game.
The real question as always will be the defense.  If the defense has one key to the game it should be doubling up on Mathieu Darche, Brock Trotter and Mike Glumac whenever they are on the ice.
With Peter Aston sent down to the ECHL I'm guessing that Michael Caruso is healthy and ready to play again.  Jason Garrison could also be back this weekend with the expected return of Dmitry Kulikov to the Panthers lineup.
It's another Friday night which means $1 hot dogs and beers from 6-8pm at the arena so hopefully it'll be a good crowd for the game.  The gates open at 6pm so it's a good idea to get there early and avoid lines.
The Amerks are also home on Saturday night at 7:05pm vs the W-B/S Penguins and again on Sunday vs the Adirondack Phantoms.
Previous Meetings This Season:
Rochester 6 @ Hamilton 5 (Jan 15 2010) Final SO
Rochester 1 @ Hamilton 4 (Dec 30 2009) Final
Hamilton 2 @ Rochester 4 (Dec 26 2009) Final
Hamilton 5 @ Rochester 4 (Dec 20 2009) Final OT
Rochester 5 @ Hamilton 2 (Nov 24 2009) Final
Hamilton 1 @ Rochester 4 (Nov 10 2009) Final
Here's more stats than you've ever seen posted in one article on this site.  If you're reading through an RSS feed or automated post elsewhere you'll probably need to visit the actual site to see these.  Some head to head stats between the two teams:
| | | |
| --- | --- | --- |
| | Hamilton | Rochester |
| Team Record | 26-11-3-4 59 points | 25-15-2-0 52 points |
| Division Ranking | 1st North | 2nd North |
| Conference Ranking | 1st Western | 4th Western |
| League Ranking | 2nd | 8th |
| Past 10 Games | 5-3-1-1 | 5-5-0-0 |
| Streak | 0-2-1-1 | 3-0-0-0 |
| Last Game | 3-1 Loss @ Grand Rapids (Jan 16 2010) Final | 4-3 Win @ Syracuse (Jan 16 2010) Final |
| Home Record | 13-6-2-2 | 14-4-2-0 |
| Away Record | 13-5-1-2 | 11-11-0-0 |
| GF | 140 | 138 |
| GA | 102 | 129 |
| PP% | (40/223) 17.9 | (39/199) 19.6 |
| PP (Home)% | (22/121) 18.2 | (23/97) 23.7 |
| PP (Away)% | (18/102) 17.6 | (16/102) 15.7 |
| PK% | (29/189) 84.7 | (36/209) 82.8 |
| PK (Home)% | (17/102) 83.3 | (11/96) 88.5 |
| PK (Away)% | (12/87) 86.2 | (25/113) 77.9 |
| Leading Rookie | Subban (9-19-28) | Dadonov (9-11-20) |
| Most PIM | Neilson – 85 | Bonneau – 133 |
| Team PIM/GM | 15.4/game | 17.2/game |
| Leading Scorers | Trotter (18-24-42) | Johnson (17-24-41) |
| | Desharnais (14-24-38) | Taylor (11-22-33) |
| | Maxwell (10-21-31) | Taffe (13-16-29) |
| | Subban (9-19-28) | Repik (13-16-29) |
| | Darche (16-9-25) | Wilson (6-23-29) |
| Last 5 Games | 3-1 Loss @ Grand Rapids (Jan 16 2010) Final | 4-3 Win @ Syracuse (Jan 16 2010) Final |
| | 6-5 Loss vs. Rochester (Jan 15 2010) Final SO | 6-5 Win @ Hamilton (Jan 15 2010) Final SO |
| | 5-3 Loss vs. Lake Erie (Jan 13 2010) Final | 6-1 Win vs. Binghamton (Jan 10 2010) Final |
| | 3-2 Loss vs. Lake Erie (Jan 11 2010) Final OT | 3-1 Loss vs. Lake Erie (Jan 9 2010) Final |
| | 5-2 Win vs. Grand Rapids (Jan 9 2010) Final | 6-3 Loss vs. Grand Rapids (Jan 8 2010) Final |
| Leading After 1st | 12-2-1-1 | 14-2-1-0 |
| Leading After 2nd | 18-1-1-1 | 18-0-1-0 |
| Tied After 1st | 13-4-1-3 | 7-7-1-0 |
| Tied After 2nd | 7-2-1-2 | 5-4-1-0 |
| Trailing After 1st | 1-5-1-0 | 4-6-0-0 |
| Trailing After 2nd | 1-8-1-1 | 2-11-0-0 |
| Out Shooting Opponents | 21-9-2-2 | 10-7-0-0 |
| Out Shot by Opponents | 5-1-1-2 | 14-7-2-0 |
| 1-Goal Games | 7-4-3-4 | 8-3-2-0 |
| 2-Goal Games | 3-4-0-0 | 6-3-0-0 |
| 3-Goal Games | 11-3-0-0 | 10-3-0-0 |