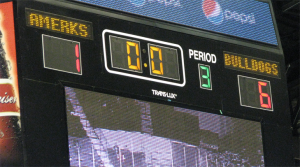 The Hamilton Bulldogs easily defeated the Amerks by the final score of 6-1 on Friday night and I think the game can be summed up by saying that they had a great defense and Rochester did not.  The Bulldogs defense kept the amount of real scoring chances for the Amerks to a minimum and when there was a good chance Cedrick Desjardins was there to make the stop.
(fight videos below)
A respectable crowd of 5,671 showed up but was unfortunately delivered a stinker of a game.  At least they got to see two fights and drink some $1 beers and eat $1 hot dogs.
The first five minutes of the game made it seem as if it could be a competitive battle between the two teams.  That changed quickly though after Hamilton scored two quick goals off some mistakes by the Amerks.
Alexander Salak was pulled after the first period and Tyler Plante went into the game to play the final 40 minutes.  Yes the goalies allowed a total of six goals but I don't think they can be blamed for the loss.  If anything the two goaltenders who had been out injured suffered the most from the all star break and a lack of practice time.
Blame the defense who yet again was not able to control the puck all that well.  A -5 for Rory Fitzpatrick on the score sheet says a lot.
"When you're down 4 zip after 13 shots against Hamilton you know its going to be difficult," Benoit Groulx said after the game.  "Our confidence went down quick, that's the story of the game."
Jason Garrison (in locker room that emptied a lot quicker than usual) said, "We're taking this and using it as motivation.  We're going to make sure we have our best effort tomorrow."
The game stunk.  The defense stunk.  The offense was controlled by the Bulldogs defense.  The team had a great chance to gain a much needed two points in the standings but it did not happen.  There's a lot that can be said but we'll save that for Sunday if the next two games are not better.
They're back at home again on Saturday night at 7:05pm vs the Wilkes-Barre/Scranton Penguins.
Mike Duco vs Ryan White
http://www.youtube.com/watch?v=5JhBcUVqz1E
Jimmy Bonneau vs Alex Henry
http://www.youtube.com/watch?v=8IWJ0AFW6J4
—–
Hamilton Bulldogs 6 At Rochester Americans 1 – Status: Final
Jan 22, 2010 – Blue Cross Arena
Hamilton 3 2 1 – 6
Rochester 0 0 1 – 1
1st Period-1, Hamilton, Trotter 19 (Desharnais, Masse), 7:06. 2, Hamilton, Pyatt 8 (Maxwell), 9:08. 3, Hamilton, Wyman 8 (Trotter, Pyatt), 18:54. Penalties-Belle Ham (elbowing), 1:48; White Ham (fighting), 6:26; Duco Rch (fighting), 6:26; Henry Ham (fighting), 13:22; Bonneau Rch (fighting), 13:22; Dadonov Rch (high-sticking), 14:35; Subban Ham (hooking), 15:50.
2nd Period-4, Hamilton, Trotter 20 (Maxwell, Subban), 0:44 (pp). 5, Hamilton, White 12 (Desharnais), 8:37. Penalties-Duco Rch (cross-checking, roughing), 0:15; Garrison Rch (slashing), 0:44.
3rd Period-6, Rochester, Taffe 14 (Johnson, Mink), 0:53. 7, Hamilton, Wyman 9 (Stevenson, Stewart), 10:08. Penalties-Weber Ham (interference), 11:43.
Shots on Goal-Hamilton 12-15-9-36. Rochester 16-5-9-30.
Power Play Opportunities-Hamilton 1 of 4; Rochester 0 of 3.
Goalies-Hamilton, Desjardins 18-6-2 (30 shots-29 saves). Rochester, Salak 19-6-0 (12 shots-9 saves); Plante 3-4-0 (24 shots-21 saves).
A-5,671
Referees-Nygel Pelletier (41).
Linesmen-Justin Prusak (70), Jared Hoffmeyer (91).