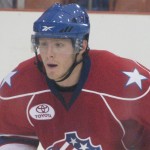 The Florida Panthers sent Jason Garrison back to the Amerks on Friday in a move that was expected. Victor Oreskovich being sent down as well was not expected and should be a great addition to the third line.
Garrison was called up on December 18th and has played a steady role since then. The big league experience should help him play a larger role for the Amerks who have needed help on defense.
Oreskovich played in only five games for the Amerks before he was called up on October 31st. Oreskovich should be the hard hitting forward that the offense has needed.
It's not known if either will play tonight but when they are back in the lineup it will be a big boost.
Puck drops in less than two hours against the Bulldogs!