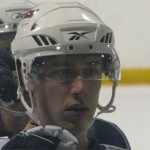 Shawn Matthias led the Panthers tonight to a win with a two goal performance against the Montreal Candadiens.  His first goal of the third period was scored on a penalty shot (video below).  His second goal was scored by him crashing the net and was able to knock in the rebound
That should be a great boost for his confidence and hopefully earn him more than eight minutes of ice time in the next game.  He showed some great hustle on the breakway that caused the penalty shot and crashing the net to get the rebound on his second goal.
On another note, NHL Game Center Live is awesome!  They had a free preview tonight and the quality is amazing.  Time to save up some money and invest in it.
Here's the video of his penalty shot, in french.  The NHL web site will have them both in better quality soon.
http://www.youtube.com/watch?v=9sZEV9HlMvM
Good job Shawn, you know we're cheering for you!