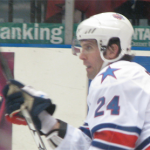 The Amerks finally finalized a contract with Daniel Steiner for him to remain with the Amerks for the remainder of the 2009/2010 season.  Steiner has been a valuable asset to the team since arriving at the end of December and has not slowed down.  He's had great success on the ice and quickly gained a lot of fans in Rochester.
Earlier in the month I wrote an article titled, "Daniel Steiner is Living the Dream," with a number of NHL scouts at Amerks game he has to be hoping a long playoff run along with the scouts will get him a chance next season in the show.
Here's an excerpt from my article last month titled, "Daniel Steiner is Living the Dream"
He always had a dream to play in North America.  Playing hockey in the best league in the world is on always on the mind when you're a kid playing hockey.  At the age of 29 he decided it was time to live the dream. He did not want to worry about any regrets when his hockey career is over and he reflects back.  Over the summer he canceled his contract in the Swiss-A league in Switzerland where he has played for the past 10 years.  He sold his car, he sold his home, and has been living with his bags packed ever since.
From the Amerks press release:
"Daniel is the kind of player who brings experience, but also brings a sense of opportunity and how opportunity presents itself," said Nolan on the signing. "He came from a great career overseas looking for an opportunity, persevered in the ECHL and took advantage of his time with us and we're very fortunate enough to have him in our organization."

Steiner, 29, first arrived in Rochester on December 19th and made his Amerks debut that night after signing a professional tryout agreement with the team. Since then, the Bern, Switzerland, native has scored four goals and eight assists for 12 points in 12 games for the Amerks, including five multipoint outings. On pace averaging exactly a point per game, the 11-year pro made his AHL debut earlier this season in a brief one-game stint with the Adirondack Phantoms after recording 30 points (11+19) in 21 games with the ECHL's Reading Royals to start the 2009-10 campaign.

Prior to making the transition to North America, the 6-foot-0, 194-pound forward played 10 seasons (1999-2009) in the Swiss-A league with teams in Langnau, Zurich and Rapperswil-Jona. In 380 career Swiss-A games, Steiner tallied 108 goals and 114 assists for 222 points. He captured a career-high 22 goals and 41 points during the 2003-04 campaign with Langnau and notched career-best 22 assists in 2005-06 with Zurich.
Amerks are back at home on Friday night vs the Albany River Rats and the return of former Amerk Jacob MicFlikier.