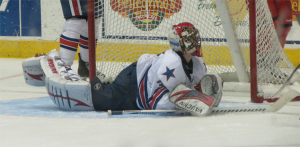 I think I could be on to a new promo for the team, "Frustrating Fridays."  You can be frustrated that you got to the cashier at 8:01 and just missed a $1 beer and then you can drive home frustrated that you just saw the game that you did.  The Rochester Americans are a playoff team.  They will make the playoffs, which was the goal at the start of the season.  The question now, can they be a Calder Cup contender?  That's the frustrating part.  Winning a championship is what everyone wants and because of the way the season started that is what everyone wants and expects.
It'll be easier to talk about some good things first.  The Rats scored first after a Clay Wilson turnover but Daniel Steiner answered back 73 seconds later to tie the game at one.  Steiner was able to use his speed to skate past his defender, around Brine, and then put the puck into the net.
Less than three minutes after the Rats took a 2-1 lead Jamie Johnson tied the score at two with assists to Clay Wilson and Daniel Steiner.  Clay Wilson did a great job using his body to keep the puck in the zone and finished the play that got Johnson the puck to score.
After the game I asked Benoit Groulx if he was looking for someone to step up and make that big play when the score was 3-2.
Groulx replied with, "I don't think we deserved that game tonight.   I think half the team had a rough night.  Our best players weren't the best out there tonight and that's the difference to me."
The best players not being the best seems to be a common theme.  Isn't that something to be concerned about?
"You win because of your top players and you lose because your top players are not the top players out there," Groulx replied with.  "You look at Washington, if Ovechkin goes four or five games without  scoring with having a point I don't think they will be as successful as they are and it goes like that for every team.  To me our key guys were not good enough."
Just about every hockey game has a turning point in it, Friday nights turning point was the double minor by Graham Mink in the third period when the Albany River Rats were able able to score a power play goal and go ahead 3-2.
"I'm not going to point fingers at Mink, I just think that reflect the rest of the game," Benoit Groulx said.  "Not ready to play or bad night (talking about the whole team), call it the way you want."
Graham Mink was slashed by Zach Fitzgerald but there was no call.  Shortly after the slash Mink went after Fitzgerald and earned himself four minutes in the penalty box.
"Everyone's a little frustrated right now, he (Graham Mink) came in and apologized to the team which there's no need for," Jeff Taffe said.  "It happens to everybody.  Just so happened to be that one.  It's a team game, it's not one guys fault.  You can blame the pk the pp, just one of those things that he feels bad enough the way it is right now and it shouldn't be that way."
And right there we get a rare glimpse of what happens behind closed doors.  Graham Mink apologized to the whole team because he thought he cost them the game.  Does that make what he did ok?  Not at all.  Does he deserve to be blamed for the loss?  Not at all.  It does show what kind of player Mink is that he stood up in front of everyone.
Salak made the initial pad save on Drayson Bowman but the rebound bounced up into the air and Bowman was able to hit the puck like a baseball into the back of the net to put the Rats up 3-2.
River Rats goalie Justin Peters showed off why he has become one of the best goalies in the AHL right now.  He made a number of key saves throughout the game and did a great job not giving the Amerks much to shoot at.
"It's just frustrating that I couldn't tie the game up, but that's hockey," Jamie Johnson said after the game talking about a great save by Justin Peters.
Not too long ago one of the excuses coming out of the Amerks was the lack of practice time for the team due to the busy schedule.  At the time part of the reason practice time was needed was because the team was pieced together due to injuries and call ups.  Now having a week of practice seems to be a problem.
"We always do seem a little sluggish on Fridays, I honestly couldn't tell you why," Jamie Johnson said.  "Long week I guess.  I really don't have an answer.  We should be fresh on Fridays."
With about a minute to go in the game there was a face off at center ice and a question I had was, why wasn't a time out called?  We'll never know the answer.  It seemed like a logical time to me.  Come up with a play and plan to get Salak off the ice for the extra attacker.
Once Salak was able to get off the ice the Rats were able to score an empty net goal with 34 seconds left to go ahead 4-2.  At that point about 80% of the arena stood up and headed for the doors.
Victor Oreskovich managed to score a goal with 17 seconds left to get the Amerks back within one.
Hey, another great time for a timeout!  Wrong.  That was it.  Nothing happened.  Too little too late.
You might be asking who is Victor Oreskovich?  He's a player that played in five games with the Amerks and was called up.  He played a regular shift with the Florida Panthers and was thought to have a full time job.  Since arriving back with the Amerks he's been pretty invisible.
The Amerks took a bus Friday night to Toronto to take on the Toronto Marlies at 4pm.  They'll return home on Sunday to face off against the Adirondack Phantoms at 5:05pm.
—————–
Albany River Rats 4 At Rochester Americans 3 – Status: Final
Jan 29, 2010 – Blue Cross Arena
Albany 1 1 2 – 4
Rochester 1 1 1 – 3
1st Period-1, Albany, Angelidis 7 (Chaput), 9:26. 2, Rochester, Steiner 5 (Brine), 10:39. Penalties-Boychuk Alb (tripping), 0:48; Taylor Rch (tripping), 7:06; Terry Alb (hooking), 12:45.
2nd Period-3, Albany, Terry 10 (Boychuk, Dodge), 4:16. 4, Rochester, Johnson 19 (Wilson, Steiner), 6:40 (pp). Penalties-Micflikier Alb (slashing), 6:25; Fitzpatrick Rch (holding), 8:08; Micflikier Alb (roughing), 12:35; Fitzpatrick Rch (delay of game), 19:35.
3rd Period-5, Albany, Bowman 9 (Dodge, Samson), 9:03 (pp). 6, Albany, Bellemore 1 (Angelidis), 19:26 (en). 7, Rochester, Oreskovich 2 (Duffy, Brine), 19:43. Penalties-Henry Rch (hooking), 2:24; FitzGerald Alb (roughing), 7:09; Mink Rch (roughing, roughing), 7:09; Bellemore Alb (tripping), 10:54.
Shots on Goal-Albany 12-6-9-27. Rochester 14-9-7-30.
Power Play Opportunities-Albany 1 of 5; Rochester 1 of 5.
Goalies-Albany, Peters 18-11-2 (30 shots-27 saves). Rochester, Salak 21-7-0 (26 shots-23 saves).
A-5,038
Referees-Frederic L'Ecuyer (48).
Linesmen-Fraser McIntyre (94), Justin Prusak (70).