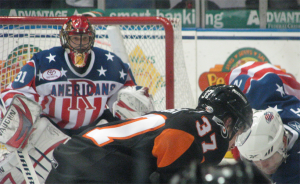 This season still has an open book and no one knows how it will end but one thing is for certain, they're not worst than last seasons team!  The 29th win of the season matches last years win total.  Jordan Henry and Jeff Taffe scored goals for the Amerks in their 2-1 win over the Adirondack Phantoms.
The team played poorly on Friday night and rebounded with a quality win on Saturday and then another one on Sunday.  The Amerks have also won seven of their past nine games.
Jordan Henry scored the first goal of the game at 2:43 of the first period off a shot that went off the glove of Phantoms goaltender Johan Backlund.  It looked like Henry was just trying to throw it on net and he got a lucky bounce off the glove.
David Laliberte scored 29 seconds into the second period to tie the game 1-1.  The second period also had the Phantoms out shoot the Amerks by a margin of 20-4.
The game winning goal was scored by Jeff Taffe with assists to Jamie Johnson and Daniel Steiner at 13:51 of the third period.  I don't think it comes as a surprise anymore that these guys are scoring the goals when needed.
Steiner started the play intercepting a pass at the blue line and it landed on Taffe's stick and he took it down load for a 3-1.  Taffe Passed it to Johnson who then took a shot and Taffe was able to put the rebound into the net.
"We expect our guys to be the difference makers and that's what he (Taffe) was tonight," Benoit Groulx said.
Alexander Salak stopped 37 of 38 shots faced for his 22nd win of the season.  Tyler Plante was scheduled to get the start but became sick and could not start today.
I had to leave quickly after the game and only stuck around for the post game with Benoit Groulx.  He said that he thought the guys played five solid periods of the past six.  The bad period being the second period tonight.   That's all I have to offer.
The Amerks are on the road Wednesday to play against the Lake Erie Monsters.