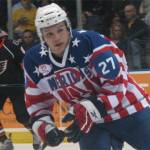 It comes as no surprise that Jimmy Bonneau returns to the lineup and he's in a fight in front of the home crowd.  After Jordan Henry scored to put the Amerks up 1-0 these two dropped their gloves after the face off.  Klotz appeared to be ready for the fight but once they locked up he did not want to let go.
The major penalty was the 21st of the season for Bonneau which puts him two behind Louis Robitaille and he is still two ahead of Jon Mirasty.  It's hard to imagine at one point Bonneau was released from the team before being brought back.  Not only does Bonneau provide some muscle on the ice he's constantly talking things up when he's on the bench as well.  A solid played that we can only hope is brought back again next season.
http://www.youtube.com/watch?v=ZBYBW7HFIyU
Enjoy and share!