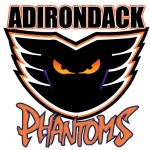 The Adirondack Phantoms return to Rochester for the second Sunday in a row to face off against the Rochester Americans.  Last week Michal Repik and Jamie Johnson led the Amerks to a 3-1 win over the Phantoms.
Both teams are 1-1 so far this weekend.  The Amerks lost on Friday to the Rats but rebounded to win over the Marlies on Saturday.  The Phantoms defeated the Senators on Friday and then lost Saturday to the Norfolk Admirals.
A win for Rochester on Sunday and the Amerks would equal their win total from last season with 33 games still remaining on the schedule.  Sometimes it's tough to remember how much the team has improved over the past two dismal seasons.
The Amerks are 5-2 in their last seven games and 6-4 in the last ten.
Jamie Johnson is one goal away from becoming the Amerks first 20 goal scorer for the season.  The past few seasons it took nearly 80 games to get one 20 goal scorer.
Tyler Plante got the shutout in Toronto on Saturday, will be interesting to see if he earned a second straight start or if Salak goes back in net on Sunday.
I'm likely to jinx the game with this stat, but the Amerks are 19-0-1 when they're leading after two periods.  When they're trailing after two periods the team is 2-12-0.  Read into that what you will about confidence going into a third period.
The puck drops at 5:05pm, see you there!