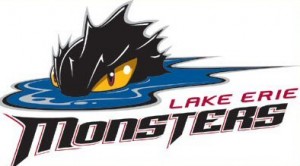 The Rochester Americans left on Tuesday afternoon for Cleveland for their game tonight against the Lake Erie Monsters, a team they have lost to four times already this season.  Out of five games this season the only one the Amerks have won was a 5-2 decision back on October 9th, the second game of the season.  The Monsters have also outscored the Amerks by a margin of 19-11.
I'd say that paints a pretty optimistic outcome for the game tonight!
Alexander Salak has not yet played against the Monsters so I would hope that he gets the start.  Plante was the winning goaltender in the only win against the Monsters this season.  He also has one of the losses along with Ryan Mior and Chris Beckford-Tseu.
The Monsters have turned their season around from last place and are currently one point out of fourth in the division.  This game is not only important for the Amerks to continue chasing the Bulldogs but also slow down the Monsters from gaining in the standings.
The team will be counting on the line of Jamie Johnson, Jeff Taffe, and Daniel Steiner who seem to be the offensive firepower.  It'd be nice to see Chris Taylor have a breakout game to get out of what seems to be a slump.  The defense has been playing much better recently and will need another strong game.
Seventh-year pro Jamie Johnson, presently in the midst of a season-high nine-game winning streak (5+9), currently paces Rochester's offense in all offensive categories in goals (19), assists (30) and points (49). Averaging just over a point per game, Johnson, who assisted on both game-winning goals over the weekend, is sixth in the AHL in overall point production after collecting 45 points (19+26) in his last 37 appearances. Further, his 19 goals and 30 assists rank him 10th and eighth in each category among the AHL's top scorers, respectively.

Veteran defenseman Clay Wilson, who shows six points in his last eight games, has a team-best 16 assists on the power-play this season, good enough for second in the AHL in that category. Wilson continues to be Rochester's top scoring defenseman with 33 points (7+26) and remains tied for fourth in scoring among league blueliners. Amerks tough-guy Jimmy Bonneau is first on the team and seventh in the league with a team-high 143 penalty minutes. Third-year defenseman Jordan Henry owns the team's best on-ice rating with a plus-16.
If you're sitting around watching or listening the game stop by the live chat by clicking live chat above or going directly to https://lga585.com/livechat.  I'll fire it up around 7pm.