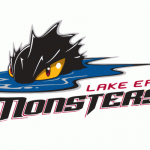 The Rochester Americans lost again to the Lake Erie Monsters, their 5th loss of the season against the Monsters.  The deciding factor in the game was three goals in a short span of three minutes and 24 seconds when the Monsters scored all three of their goals.  The Amerks played well in the third but it was too little too late.  It was another frustrating road loss to watch.  The two goals for the Amerks were scored by Jimmy Bonneau and David Brine.  Jamie Johnson picked up an assist to extend his point streak to ten games.
It was frustrating.  I'm not really sure where to start so I'll put up a guest post of sorts.
(This was a post by the user named insagt1 on RochesterSportsFan.com, a local message board where a number of die hard sports fans discuss Amerks hockey)
The Rochester Americans refuse to learn. And so they truly deserved to lose tonites hockey game against Lake Erie.
When is this team going to figure it out:
1) You can't take a period or even a part of a period off every night and expect to keep stealing wins
2) If you keep taking dumb penalties you are not going to win hockey games.
Amerks played a solid 1st period and they were sharp (sort of) in the 3rd…but for some unknown reason they came out in the 2nd period and fell asleep. Bing, bing, bing—barely 3 shots and 3 goals before the period was barely 5 minutes old.
Whats the story guys—they came out smoking and score quickly so what do you do? You take a dumb penalty….oh, and then you take another dumb penalty (delay of game) to put you 2 men down with zero momentum.
We have no penalty kill this season. And we have no power play. Given an opportunity to come right back after the 3 goal nightmare…we do nothing.
With time running out in the game, Mink unwisely takes another penalty which pretty much finishes us off…in their zone no less. You just can't do stuff like that.
We have been lucky the last few games in getting wins when perhaps we didn't play well. tonite the bad habits that have dogged us all season long came home to roost.
I'm sure somebody will definitely say we played well tonite–that we were all over them in the third and their goalie stoned us.
I say, when you decide to take some shifts off; when you play undisciplined hockey when the other guys have grabbed momentum; when your special teams continue to cost you bigtime; and when you trash your last minute chance to score by taking a foolish penalty in their zone—-you haven't played well and you deserve to lose.
I hate it when we lose any game so I'm rarely understanding or benevolent in defeat–unless there were special circumstances. tonite our season long problems were lit up in neon.
Will they ever learn?