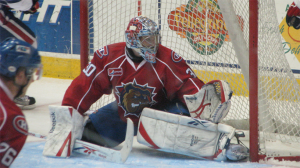 The Rochester Americans lost on another episode of Frustrating Fridays, this time by the final score of 5-2 against the Hamilton Bulldogs.  A lot can be said about this game, very little would be good.
Cedrick Desjardins was great.  The Hamilton defense was great.  The Amerks defense failed again.  The Amerks special teams failed again.  Tyler Plante allowed four goals but I don't think he was "bad."
"Even though they're missing players they're still a good team," Benoit Groulx said about the Hamilton Bulldogs.
A moment later Groulx went on to say, "We have not played with our full roster for two months."
Are you kidding me?  I was speechless when he said this.  But there's more.
He went on to say, "I think the day we'll have Repik back, Garrison healthy, everybody healthy, Matthias back we'll have a much better roster.  At the beginning of the year we had everybody and the team was playing well but we havn't had that chance and I think its going to take a certain period of time."
It sounds like the month of January was a complete waste.  Nothing was accomplished after the month of December as the call ups slowed down.
"Today we played against Hamilton," Groulx said.  "Everything they do they do it well, they made us look bad tonight for two periods and then we started to play."
Chris Taylor says it's frustrating.  I asked him if it's time to start looking forward to the end of the season and he said no, there's still 30 games left.  Rory Fitzpatrick said it's frustrating as well but to look at the record of the past 10 games.
The Amerks will rebound and play well against the Binghamton Senators on Saturday and probably win, against a team that they should beat.  Something is gone from the team and the locker room.  How come teams can be down two goals against the Amerks but find a way to still play hard but this team says, "the other team took control and we could not do anything."