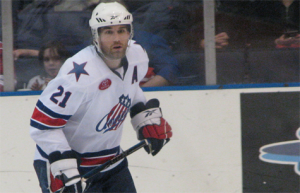 The Rochester Americans have to be happy that today is Saturday so that they can rebound from another poor performance on a Friday night.  The team is traveling today to play against the Binghamton Senators and if the past month tells us anything it's that they'll win the game.
Benoit Groulx probably anticipated the question and stated, "Why are we so bad on Friday?  I don't know why."
(also read an earlier post game article where Benoit Groulx talks about the team not having the whole roster, "Amerks Lose Another Friday Game, Blame Missing Players.")
"All we have to do is win the first period and then the game is probably ours but we just weren't executing," Chris Taylor said after the game.
Chris Taylor also commented, "They were the much better team, not because they're better but because they played better.  They just out worked us.  We always have to be prepared and we just weren't ready to go."
A team that at one time talked about needing more practice time is suddenly plagued by practice time.
"If they have better skill and that then I can understand but they don't," Taylor said.  "They were missing a lot of their key players and we didn't take advantage of that and it's our own fault, especially at home."
Benoit Groulx said, "We had a plan in place and obviously we didn't do exactly what we had planned."
"It was pretty frustrating, we didn't really get anything going," Mike Duco said.  "It seemed like we were going to make a little come back at the end there but obviously you can't make a comeback in the third period, it's too late.  We just have to rebound and forget about tonight and come back tomorrow ready to play."
Graham Mink scored early in the first and Evgeny Dadonov later in the third with just over five minutes left but it was it really too late?  Let's look back at the game on January 15th.  Shawn Matthias scored at 5:37 of the third period to put the Amerks up 5-3.  The Bulldogs scored a power play and short handed goal after that in the third period to end the game in a tie prior to going to overtime and the shootout.  The Amerks were the better team in the skills competition and won.
Does anyone else feel like the Amerks can be up 4-2 and we expect the other team to make it close yet when the Amerks are down 4-2 they consider the game a wash and it's over?
After that January 15th win they defeated the Syracuse Crunch 4-3 in Syracuse the next night.
The following Friday on January 22nd the Amerks lost 6-1 against Hamilton before rebounding the next night and defeating the Wilkes-Barre/Scranton Penguins 5-3.
Last Friday January 29th they lost 4-3 against the River Rats but rebounded the next day in a strong performance against the Toronto Marlies winning 2-0.
Something seems to be missing from this team.  The excitement.  The passion.  The intensity.  Where is it?  That's the big question.  When asked if something disappeared Rory Fitzpatrick said, "I don't think it's doom and gloom.  We want to play better.  We want to win Friday nights.  I mean, what's our record in the last 10?"
The Amerks are 6-4 in their last 10 games.  Only one of those games, the 2-0 win in Toronto I would really consider a good game and that game was against a last place team.
So if history tells us something they'll have no problems beating the Binghamton Senators tonight.
They're not executing, they're not prepared, they have excuses.  I feel bad for the ticket executives trying to sell tickets to see this team.  When they play their best they are exciting to watch.  When games like this happen you wish you had indulged in more $1 beers prior to 8pm.  The team should be capable of so much more with this roster of players but it's just not happening on a consistent basis.  Maybe we're expecting too much.
"We have a long ways to go, we can go up or we can go down and right now we want to keep going up," Chris Taylor said talking about the next 30 games without looking towards the post season just yet.
Chris Taylor talked about Saturdays game in Binghamton saying, "We have to go in there and play like Hamilton did to us.  We've got to go out and play hard."
How about you guys come out and play hard on a Friday night?  I want to write positive things, unfortunately there has not been much lately.