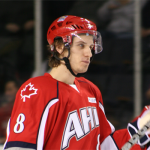 Keaton Ellerby packed his bags last night to travel to Atlanta today for the Panthers vs Thrashers game. Whether he makes it to the game with weather issues on the East Coast or if they even need him is another story.
Not a bad reward for a poor effort in Friday nights loss to the Hamilton Bulldogs. Ellerby can be blamed for the Bulldogs second goal on the powerplay when he left his man alone to the side of the net. Later in the game he was assessed a double minor for high sticking and the Bulldogs were able to score then as well.
The pickings are slim for the Panthers with Garrison still hurt. If I was Jordan Henry I would be feeling a little neglected at this point. Henry is a team best plus-15 and trails Ellerby by only one point. Henry has been consistent on the ice this season but it appears that management notices something different.
Clay Wilson signed a two year deal with the Panthers and is on a one way contract for next season but his name is rarely mentioned.
Michael Caruso is just returning from injury.
Rory Fitzpatrick is under contract with the Amerks and there's no way the Panthers would try to play him. John de Gray is on loan to the Amerks from the Ducks and his NHL contract is with them.