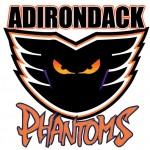 The Amerks played another what looked like uninspired game on Wednesday night in their 3-1 loss to the Adirondack Phantoms.  Something needs to change.  Obviously Benoit Groulxs talk on the ice at practice on Tuesday had no effect on the team.  The penalty kill was horrible.  The power play was horrible.  The passing was weak.  There was no real offensive threat.
The Phantoms were 2/4 on their power play and the Amerks went 0/3.  It's impressive watching other teams on a penalty kill box out the Rochester Americans and don't give them anything to work with.  On the other end of the ice the penalty kill is all over the place.
If the players can't motivate themselves and the coach can't seem to motivate the players, who's job is it?  If the players and coaches don't have an answer about the reason for the poor play than who does?  One persons name that is being talked about around town is Ted Nolan.  Everyone knows his experience.  Is that really his place?  No idea, but nothing else is working so what could it really hurt if he spoke up?
Michal Repik was the lone goal scorer for the Rochester Americans scoring at 19:07 of the second period, assisted by David Brine.
The Amerks hit the posts at least five times and the cross bar at least twice throughout the game.  I guess we could classify this loss as one of those games where they didn't get the bounces.
Heading into the third period only down by a goal the Amerks still had a chance, especially with two power play opportunities.  Why didn't the team call a timeout?  We see opposing teams calling timeouts all the time but not the Rochester Americans.  Maybe I'm just reaching at this point, but it at least seems like a logical call to make.
The Phantoms scored their third goal at 15:52 of the third period and Don Stevens said on the air, "that's the insurance goal."
How come the team seems to have settled for defeat when going down by two goals?  Other teams seem to always step up their level of play to try and get back within one goal and then it's a game again, not the Rochester Americans.
Last week after a game when Rory Fitzpatrick was asked about the teams recent play part of his response was to look at the past 10 games, at the point the Amerks were 7-3 in the past 10.  Suddenly they're 5-5 in their past 10 and the Lake Erie Monsters have pulled within eight points.
I really wish I could find a way to write something positive but I can't find anything.  Some people about a month ago said that a lot of others were complaining too much and not happy having a second place team.  Those same people have changed their tone and are starting to be concerned.
The next game for the Amerks is this Friday against the Abbotsford Heat.  If you've been following the team you know that Friday games have not been well.  I'll be going to the game with a sense of optimism and excitement, here's hoping that sticks around through the end of the third period.
Jason Garrison did not play but is expected back on Friday.  The U.F.O. still has not returned Mike York.
————————
Rochester Americans 1 At Adirondack Phantoms 3 – Status: Final
Feb 10, 2010 – Glens Falls Civic Center
Rochester 0 1 0 – 1
Adirondack 1 1 1 – 3
1st Period-1, Adirondack, Kalinski 6 Â  14:45. Penalties-Mink Rch (high-sticking), 15:22.
2nd Period-2, Adirondack, Ward 9 (Ross, Pyorala), 3:40 (pp). 3, Rochester, Repik 17 (Brine), 19:07. Penalties-Duco Rch (high-sticking), 1:55; Ellerby Rch (roughing), 13:16; Marshall Adk (roughing), 13:16; Ward Adk (high-sticking), 14:55.
3rd Period-4, Adirondack, Curry 2 (Matsumoto, Maroon), 15:52 (pp). Penalties-Pyorala Adk (hooking), 3:30; Pyorala Adk (goaltender interference), 11:58; Mink Rch (holding), 15:44; served by Steiner Rch (bench minor – too many men), 16:38.
Shots on Goal-Rochester 10-7-9-26. Adirondack 8-12-5-25.
Power Play Opportunities-Rochester 0 of 3; Adirondack 2 of 4.
Goalies-Rochester, Salak 23-9-0 (25 shots-22 saves). Adirondack, Backlund 16-10-2 (26 shots-25 saves).
A-2,623
Referees-Francis Charron (46).
Linesmen-Jim Briggs (83), Frank Murphy (29).