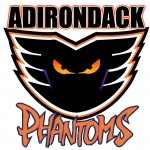 There's less than 30 games remaining in the regular season for most of the teams in the American Hockey League and the push for the playoffs is really going to start picking up.  The Rochester Americans travel to Glens Falls to take on the Adirondack Phantoms tonight at 7pm EST for the third meeting of the season between these two teams.  The last time Rochester faced an Adirondack-based AHL team (on the road)  was during the 1998-99 season against the Adirondack Red Wings before the team ceased operations
The Amerks have won both games this season (3-1 on Jan 24th and 2-1 on Jan 31st) against the Phantoms.  Neither game was one where either team ran away with the game to a clear win so this should be a competitive game.
The Amerks had what seemed like a good practice on Tuesday and then traveled to Glens Falls so they could have another gameday skate this morning.  Travel and practice time should not be an issue, this team should be ready to play a solid game.
Rochester will be without Victor Oreskovich and Brady Calla in the lineup.  Oreskovich was called up to the Panthers and Calla was sent down to the Florida Everblades on Tuesday.  Oreskovich will be missed more than Calla.
Michal Repik is back after missing the Amerks past six games, he had been called up after his two goal performance on January 24th against the Phantoms.  Keaton Ellerby is also back after his recent call up to the Panthers.
Jason Garrison practiced on Tuesday after being out with a strained muscle in his ribs that occurred during the game versus the Phantoms on January 24th.  He had wound up to take a slap shot when his stock broke.
The Phantoms are in a race for the last playoff spot in the Eastern Conference.  The Amerks are in a race to get back the passion and intensity that they seemed to play with at the start of the season.
I'll be launching the live chat right around 7pm, stop by to talk some hockey!