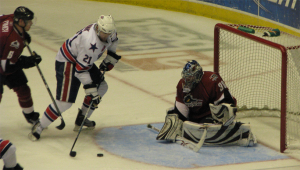 If there was ever a time for a confident come from behind win it was Saturday night when the Rochester Americans did just that off a goal by Daniel Steiner with one minute remaining in regulation.
The North Division race is getting tight and the games have not been going well recently, but there's a feeling in the locker room that things are changing for the better.
"I really sensed a different atmosphere with our team tonight.  Going into the third period we were really confident.  We were confident we would come out with a win," Kenndal McArdle said.   "We were really confident we were the better team tonight.  I was really proud our group pulled together as a team."
"It was a complete game.  It built off of last night (Friday vs Abbotsford) with low chances against and lots of scoring chances," Jason Cipolla said.  "It was great our guys stuck with it and came through with two big goals in the third."
One game does not correct a long stretch of mediocrity but it does prove that the team is capable and that recent issues have been addressed.  The way the players talked after Saturdays game about the team effort, confidence, and excitement is something we have not really heard since November.
"Every game is important, it doesn't matter how many points up you are or whatever.  You can't coast in this league," Graham Mink said after the game when I asked about the standings.  "We certainly weren't doing that at all (coasting).  You try to win every night and obviously it was a big game.  We want to win every night.  Two points is two points.  Down 2-1 and to come out 3-2 in regulation helped (confidence) a lot."
Jamie Johnson talked about the important win saying, "We're realizing how tight our division is and how close everyone is coming up on us because of our little slide here and i think we're realizing we can't sit back.  It's too bad it came to that.  We should play good every night wherever we are."
Randy Rowe of the Lake Erie Monsters scored early at 2:34 of the first period on the power play and the early lead seemed to take some energy out of the building pretty quick.
Michal Repik put the Amerks on the board and back into the game with a power play goal of his own at 9:50 of the first period.  His shot from the point appeared to bounce off the inside of Tyler Weimans' pads and into the net.  Graham Mink was initially given credit but he skated over to the ref and let him know that he did not touch the puck.  The goal was the 18th of the season for Repik.
Rowe scored on the power play again for the Monsters at 2:20 of the second period to give them a 2-1 lead, something they would hold on to until half way through the third period.
The Monsters were 2/6 on the power play Saturday night.  When Jason Cipolla was asked what the team needs to do to cut down on penalties he gave a simple answer, "keep our hands to ourselves."
Jamie Johnson tied the game 2-2 at 10:35 of the second period for his 21st goal when he tipped in a shot from Clay Wilson who was at the blue line.  Prior to this weekend Johnson had gone six games without scoring a goal and he also recognizes others are having issues scoring as well.  He said, "You start to think its never going to go in but it eventually did and then the guys saw hard work pays off every once in a while."
"I think its a little exciting," Johnson said talking about the third period come back.  "Everyone's fired up on the bench.  I don't think we've had that in the past when we were scoring goals, we were just happy, not much excitement though.  I think it brings the team closer."
Daniel Steiner ended his scoring drought at the 59 minute mark of the game with his game winning goal hitting in a Jason Garrison rebound.  Garrison put the puck on the net and Steiner went to the front and the puck landed at his stick and he was able to chip it in above the glove of Rochester native Billy Sauer.
The goal ended a five game drought for Steiner after he scored a point in nine of his first 15 games as an Amerk.  It's something Steiner is well aware of as well saying, "The last five games I had that gorilla on my shoulder, bounced off today i hope."
"The last five days games i couldn't hold the stick right, had that stick so tight," Steiner said.  "I've played 10 years and every year you've got a slump or have games you cant perform right, I hope I can bounce back with some self confidence."
Jason Cipolla talked about Steiners goal saying, "A good person to have the rebound go to.  He's in front of the net, he's doing his job going for rebounds, crashing the net.  Another player that didn't stop working and didn't stop playing and finally he got rewarded for that."
Tyler Plante picked up his fifth win of the season stopping 16 of 18 shots faced.  The confidence talked about amongst the rest of the team also includes Plante who looked good in the game and gave Benoit Groulx plenty of reason to not be worried about giving him another start soon.
There has been talk recently wondering if the players cared or were putting in a full effort, and for good reason.  I believe the coaches and players when they say everyone cared, the issue it seems is that their game plans and systems were not working and they couldn't score to win.  The team implemented some changes this past week and it seems as though things could come back together.
I think it's obvious that everyone is aware of what the media and fans have thought recently.  I'm not sure if he was addressing those things specifically but Daniel Steiner had a response saying, "We were trying hard yesterday (Friday vs Abbotsford) and we couldn't score.  It's not because we're not trying or we're not battling or fighting for it, it's a mental thing.. we have to calm down, be patient, sometimes it's hard, it's a sport everyone's human and sometimes you think about it."
"Our problem as of late when things weren't going our way we were getting frustrated whether it was at ourselves or at each other," Kenndal McArdle said.
A come from behind victory in the third period is just what the locker room needed and it seemed to show.  I'm going to keep my finger near the panic button but I have faith that this weekend should be a turning point.  The next five games will be some tough games against Binghamton on Sunday and then two games versus the Manitoba Moose and two against the Portland Pirates.
"The mood in the dressing room throughout the two games this weekend was excellent," Cipolla said.  "They were upbeat.  You could tell they weren't too discouraged."
The Amerks are back in action Sunday evening against the Binghamton Senators, a team they've had success against this year but a team that should not be taken for granted.  They'll have some additional fire power with the addition of Jonathan Cheechoo who was sent down to Binghamton from the Ottawa Senators.  It could be the only game in a B-Sens uniform as the Ottawa organization is giving him the Olympic break off.  I can only assume he'll make the most of it so he's not stuck in Binghamton longer than he needs to be.
When Jamie Johnson heard that Cheechoo cleared waivers he said, "We're going to have to keep an eye on him, he'll have St. Pierre feeding him the puck and could be a scary combo."
—————–
Lake Erie Monsters 2 At Rochester Americans 3 – Status: Final
Feb 13, 2010 – Blue Cross Arena
Lake Erie 1 1 0 – 2
Rochester 1 0 2 – 3
1st Period-1, Lake Erie, Rowe 4 (Preissing, Skinner), 2:34 (pp). 2, Rochester, Repik 18 (Taylor, Dadonov), 9:50 (pp). Penalties-Repik Rch (hooking), 0:39; Fahey Le (hooking), 9:07; Beaverson Rch (hooking), 11:42; Brine Rch (slashing), 16:02.
2nd Period-3, Lake Erie, Rowe 5 (Haydar, Skinner), 2:20 (pp). Penalties-Taylor Rch (tripping), 1:07; Haydar Le (interference), 8:06; Preissing Le (cross-checking), 16:01; Steiner Rch (tripping), 19:01.
3rd Period-4, Rochester, Johnson 21 (Wilson, Caruso), 10:35. 5, Rochester, Steiner 6 (Garrison, Duco), 19:00. Penalties-Haydar Le (holding), 0:20; Willsie Le (roughing), 3:44; McArdle Rch (interference), 3:44; Mink Rch (elbowing), 10:10; Bradford Le (tripping), 16:41.
Shots on Goal-Lake Erie 5-8-5-18. Rochester 9-14-15-38.
Power Play Opportunities-Lake Erie 2 of 6; Rochester 1 of 5.
Goalies-Lake Erie, Weiman 20-14-3 (30 shots-29 saves); Sauer 4-6-0 (8 shots-6 saves). Rochester, Plante 5-5-0 (18 shots-16 saves).
A-5,258
Referees-Ryan Fraser (14).
Linesmen-Brian Lemon (25), Derek Sylvester (76).