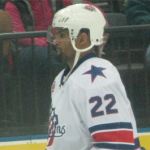 The Amerks had a 1-0 lead at the start of the second period and both teams were trying to take control and momentum, so what better time for a couple of players to put one a popular and enjoyable staged fight.  The two players to drop the gloves were Kenndal McArdle and Zack Smith.  Unfortunately Smith got the upper hand on McArdle and McArdle had to leave the game injured and did not return.  McArdle left the arena with one eye puffed up and his arm in a sling, not a good sign.
I could be wrong, but with McArdle having just missed a long stretch with a shoulder injury this season and also last season I wouldn't expect him back quickly.
Here's the video:
http://www.youtube.com/watch?v=T9ckw4tbfQw
Enjoy and share!