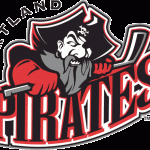 The last time the Rochester Americans and Portland Pirates faced off was on November 12th at HSBC Arena in Buffalo when the Pirates won 6-3 to end the Amerks bid for a franchise record 12th straight win.  The Amerks will have a chance to end the Pirates bid for their own franchise record as they go for their 11th straight win.
It's safe to say that there is a lot on the line with this game and I think everyone knows why without me writing about it.
The Amerks lost 4-3 on Friday night against the Manitoba Moose but insist that if they play with the same effort they had they will be succesful.  It was a similar story line last Friday and Saturday and they did find a way to win, unfortunately it ended as quick as it started.
The players and coach say that if they keep up the effort they'll start winning games regularly again.  I think fans would love to believe that but want to see the wins first, hopefully today is the start.
The Pirates were down 2-1 against the Albany River Rats but found a way to come back and win the game 3-2.  The Pirates have been rising in the standings and want to continue that run.
Mike York is questionable for the game.  York said on Friday night that he felt fine but will have to wait to see how he feels this morning.  A meeting between York and Benoit Groulx is planned to see how he feels.  The plan heading into the weekend was for him to play on Friday and Sunday.
Alexander Salak was in net when the two teams played back in November and he allowed four goals on 14 shots.  He could be given a chance to redeem himself with another start but hopefully Plante gets the nod.
My son will be dropping the puck at the game so hopefully he can bring some good luck to the team.  He was the Amerks "Mooseketeers" Kids Club kid of the year for the 2008/2009 season and was rewarded with this opportunity.  If you have or know of a kid that loves hockey get them signed up, it's a great deal – http://www.amerks.com/tickets/kids/
See you at the game!!