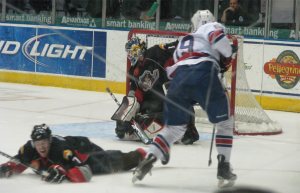 It's only fitting that as I find a movie to watch as I write about the Amerks fourth straight loss the movie Groundhog Day is on.  Can someone check the alarm clocks of the Amerks and make sure I've Got You Babe is not waking the players up every morning?  It sure does feel like we're living the same games over and over, much like Bill Murray had to live the same day over and over.
The Rochester Americans get off to a good start, play with some confidence, hit some bodies, score some goals, fans are excited… and then everything changes.  The team loses it's confidence.  The fans lose their excitement.  The other team wins.
Jamie Johnson must have been reading my mind because he said across the locker room to the media, "You guys can use the same comments I made last night and Tuesday."
Benoit Groulx is still confident as he should be saying, "To me we can't be more close than we are lately.  End up losing by one goal here, one goal there, bad mistake bad play here, so we'd like to believe that its coming."
The game started out pretty exciting.  Jamie Johnson scored at 2:19 of the first period knocking a rebound into an open net to give the Amerks an early 1-0 lead.  Clay Wilson gave the Amerks a 2-0 lead scoring a power play goal at 10:55 of the first as well.  The Amerks were also playing a physical game hitting bodies and trying to mix things up.
And then everything seemed to change.  Clay Wilson was in the penalty box for interference and the Pirates took advantage when Felix Schutz sent a quick wrist shot through the five hole of Tyler Plante and into the net.
"We took too many penalties obviously," Benoit Groulx said.  "I don't think tonight we had any big stops from our goalie.  When you're up two zip you've got to make the big save and I don't think that was the case tonight"
The goalies do seem to be an issue lately, both Alexander Salak and Tyler Plante.  Should they be making bigger saves?  Of course.  Should it be up to them to keep the Amerks in the games?  Possibly, more like probably.  That brings up another issue, it'd probably be helpful if they had a goalie coach to help them improve.
Philip Gogulla tied the game 2-2 with a power play goal at 6:06 of the second period sending a wrist shot over a sliding Victor Oreskovich, past a Keaton Ellerby and past Tyler Plante.
After that goal by Gogulla every bit of confidence and desire to play a physical game appeared to leave the building and jump off of the closed Broad Street bridge.
"They brought their physical game in the second and third and we stopped being physical," Benoit Groulx said.
So the follow up question of course is, why did they stop playing physical?
He replied with, "It's a game of mistakes, game of momentum, to me when they scored their first goal, they're on a 11 game winning streak, they're confidence is very high and our confidence is very low, it doesn't take much to make the momentum switch sides.  We're playing a lot of hockey lately i think mentally it's not easy for us.  We're losing many games.  I think it's a lot of different factor but the one that's so obvious.. when they came back with their second goal their bench was lifted and ours was fragile.  We've got to find a way to overcome those obstacles."
Shawn Matthias gave the team a little momentum scoring a goal off a pass from Mike York at 15:01 of the second period.  Matthias took the puck into the Pirates zone and from around the face off circle sent a wrist shot into the opposite corner past Jhonas Enroth.
The lack of a physical game allowed the Pirates to start a come back after that.
Mike Duco commented on the physical game saying, "Obviously in the second half of the game we weren't playing as physical, it seemed like they took the game to us.  We can't let that happen.  When you get up two goals you've got to keep pounding on them and we let up and let them back in the game."
The Pirates can thank Shawn Matthias for a turnover early in the third period that allowed them to head down the ice and score to tie the game at three.  Philip Gogulla scored his second goal of the game at 2:15 off of that play.
"I made a bonehead play in the third," Matthias said.  "I just tried to throw it at the net and didn't get enough wood on it.  I was just trying to make something happen.  I was just trying to go out and cause energy,  just trying to cause some havoc."
Benoit Groulx thought a little differently saying, "It's unacceptable.  We're in February and you've got to find a way to get the puck in deep.  This is smart hockey, we're not smart.  To me that's a bad play."
The Amerks are desperate for a win, it's a tough spot to be in.  Play smart hockey and hope that things will work out, or play desperate hockey and try to force plays.
Rochester native Derek Whitmore scored the game winning goal at 6:17 of the third period and the Pirates never looked back.  Whitemore tipped a shot from the point into the net as he went skating in front of Plante with John de Gray following behind him creating a nice screen on the initial shot.
If the Amerks could keep a consistent game going for 60 minutes they'd probably be able to win a game, that's just not happening.  As soon as they start to lose a lead they lose every ounce of confidence.
Part of that game needs to be playing physical, something that Mike Duco, Victor Oreskovich, and Jimmy Bonneau should be doing but it's just not happening.  In Bonneau's defense, he can't do that if he's not given opportunities.
When asked if they're holding back in fear of penalties Mike Duco said, "I'm sure the coaching staff would be fine if you take a charging penalty, you know you're playing physical.  When we get into those situations not moving our feet, using our sticks instead of taking the body out, that's when we get into trouble and we've just got to get past that."
Shawn Matthias talked about what needs to be done saying, "We just have to keep our foot on the gas.  Everyone in the room cares, it's not like we're doing this on purpose.  We've just got to stick with it, we've got to play harder, we can't be doing this every third period."
"To me, we can't be more close than we are lately," Benoit Groulx said.  "We end up losing by one goal here, one goal there, bad mistake bad play here, so we'd like to believe that it's coming."
The Amerks and Pirates play again at 3pm on Sunday afternoon, we'll see if they've learned anything or we live another day like it's Groundhog Day.  At least for Bill Murray his day eventually ended, hopefully Groundhog Day in Rochester ends in June with a celebration.